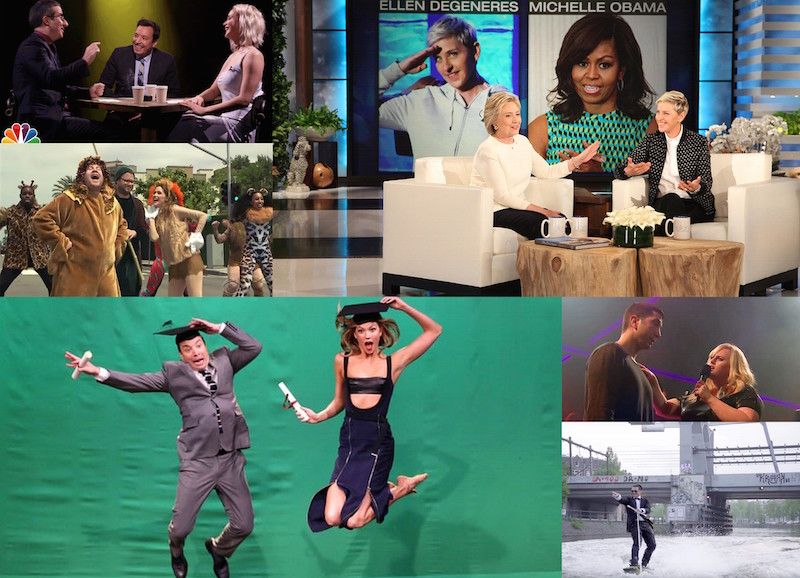 Net als vorige week heb ik mijn favoriete YouTube video's van afgelopen week op een rijtje gezet. Jullie reacties waren leuk en het geeft mij een iets minder slecht gevoel als ik weer eens verdwaald ben op YouTube. Ik verdwaal nu dus met een doel, op zoek naar leuke video's voor deze blog. Afgelopen week waren onder andere Jennifer Lawrence, Hillary Clinton en Karlie Kloss op bezoek bij mijn favoriete Amerikaanse talkshow hosts. En mijn favoriete YouTuber was in Amsterdam! Pak een kopje thee, ga er even lekker voor zitten en veel plezier met deze feel-good-video's.
Casey Neistat was in Nederland! Ik denk dat de meeste dat niet ontgaan zal zijn. Afgelopen winter maakte hij een super vette video waarin hij snowboard door New York, in Amsterdam deed hij dat nog eens dunnetjes over. Het snowboard werd ingeruild voor een wakeboard en de besneeuwde straten van New York werden ingewisseld voor de Amsterdamse grachten. De video is (nog) niet zo viral gegaan als de originele video, maar wat niet is kan nog komen.
Jennifer Lawrence hoeft haar mond maar open te doen of ik moet al lachen. Er is iets met haar stem en de manier waarop ze die gebruikt dat ik meteen al moet lachen. Afgelopen week was ze bij Jimmy Fallon en vertelde ze over een van haar eerste persevenementen, waar ze vertelde dat haar co-star was overleden, als grapje. Het is pas grappig als je het gezien hebt.
Jennifer bleef nog langer in de studio om samen met Jimmy en John Oliver een spelletje 'True Confessions' te spelen.
Jimmy had meer girl-crushes van mij in zijn show afgelopen week. Ook Karlie Kloss bracht een bezoekje aan zijn studio. Karlie geeft Jimmy modellen-les.
Hillary Clinton bracht een bezoekje aan Ellen en Ellen speelde met haar het spelletje Who'd You Rather, VP-edition. Wie heeft Hillary het liefst als vice president mocht ze eind dit jaar de presidentsverkiezingen winnen. Ze moet onder andere kiezen tussen George Clooney en Leonardo DiCaprio. Zou jij die keuze kunnen maken?

James Corden speelde afgelopen week een musical, midden op een zebrapad samen met Seth Rogen en Rose Byrne (Bad Neighbours). Compleet met kostuums, een compleet musical ensemble en de bekendste nummers uit The Lion King. Heel erg feel good deze video.

Maar eigenlijk was de Drop the Mic video met David Schwimmer en Rebel Wilson de beste video van James van afgelopen week. De raps zijn zo goed en raak.
HAPPY SUNDAY!
Liefs,
Annemerel