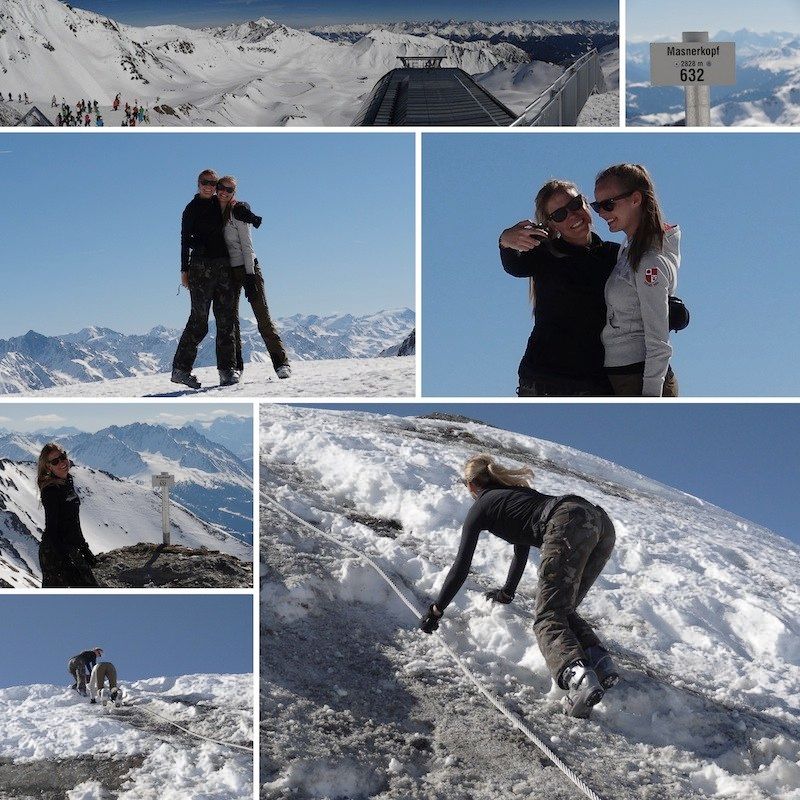 Om een klein beetje extra sensatie in de vakantie te gooien besloten mijn vader, zusje en ik om gistermiddag op het hoogste punt van het hele skigebied onze ski's uit te trekken. Vervolgens hesen we onszelf aan een touw naar boven en waren we NOG hoger. Op 2828 meter om precies te zijn. Het leek alsof we op het topje van de wereld stonden.
Leukste van dit alles.. We moesten ook nog een keer naar beneden. Nu ging naar boven bij mij al niet helemaal vlekkeloos, naar beenden was nog een heel ander verhaal. Door de felle zon van de afgelopen dagen was de meeste sneeuw gesmolten en was het dus een kwestie van je tenen in de bergwand drukken en hopen dat het allemaal goed komt.
Dat kan dus ook weer van m'n bucketlist af.. een berg beklimmen, haha.
Rond een uurtje of vier skieden we naar beneden, onze laatste afdaling. Ik word daar altijd een beetje depressief van. Zeker als die afdaling dan ook nog eens afschuwelijk skiën is. Maar ik heb het overleefd. Op de terugweg om het af te leren nog even een taartje en een kopje thee gedronken en toen was het toch echt tijd om de laatste spullen in te pakken en weg te rijden.
Het is nu 20.00u, ik ben net een half uurtje geleden aangekomen in het hotel waar we vanavond zullen overnachten. We hebben nog geen twee uur in de auto gezeten maar ik heb het gepresteerd in een diepe slaap te raken, waardoor ik nu echt als een suf konijn op mijn bed zit met mijn laptop op schoot. Het liefst zou ik nu gelijk mijn bed in duiken, maar patat met schnitzel is calling vanuit het restaurant. Voor de laatste keer.
See you in the Netherlands bitches!
Liefs,
Annemerel
Follow my blog on bloglovin