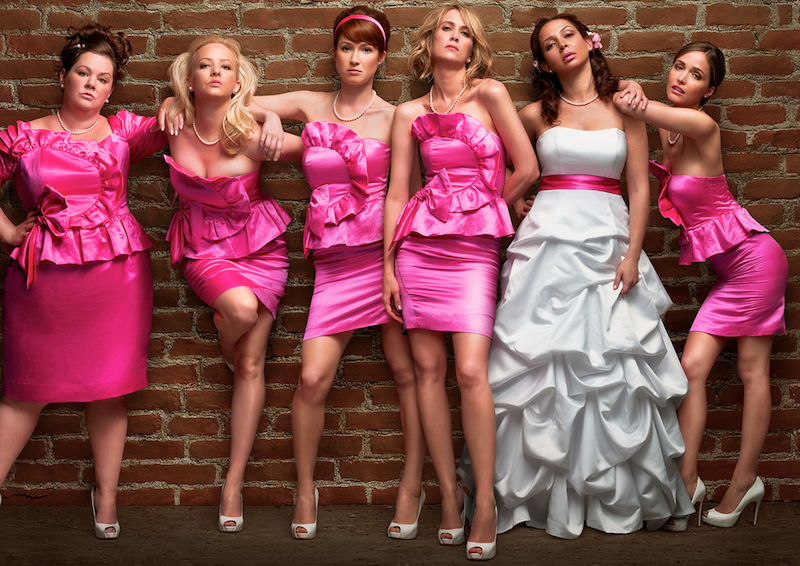 Bridesmaids is dus zo'n film als Notting Hill, Pretty Woman of Bridget Jones' Diary, een film die je hoe dan ook vroeg of laat een keer móet zien.
Annie (Kristig Wigg) heeft haar taartenwinkeltje nog niet verloren (en tegelijkertijd al haar spaargeld) of ook haar vriend gaat er vandoor. Ze werkt bij een juwelier en huurt een kamertje bij een broer en zus, niet bepaald de leukste types overigens. Ze heeft een seksuele relatie met een egoistische klootzak en eigenlijk is haar vriendin Lillian het enige lichtpuntje in haar leven. Totdat Lillian vertelt dat ze verloofd is en Annie bekroond is tot 'maid of honer'. En dan gaat het leven van Annie dus van slecht, naar nog slechter, tot aan… 'arm kind ik zou echt niet met je willen ruilen' slecht.
Naast maid of honor is Annie samen met vier andere vrouwen bruidsmeisje en één van de andere bruidsmeisjes lijkt er wel heel erg op uit de vriendschap tussen Annie en Lillian kapot te maken en haar plekje als maid of honor voor zich te winnen. Drama, drama, drama en dit keer een drama waarin de man niet de hoofdrol speelt. Refreshing!
Kate & William zijn al lachend bij deze film in de bioscoop gespot, Jennifer Aniston vond de film geweldig en ikzelf heb nog geen slechte recensie gelezen. Ik kan dus eigenlijk alleen maar concluderen dat deze film dus écht leuk is.
???????Liefs,
Annemerel
Follow my blog on bloglovin'