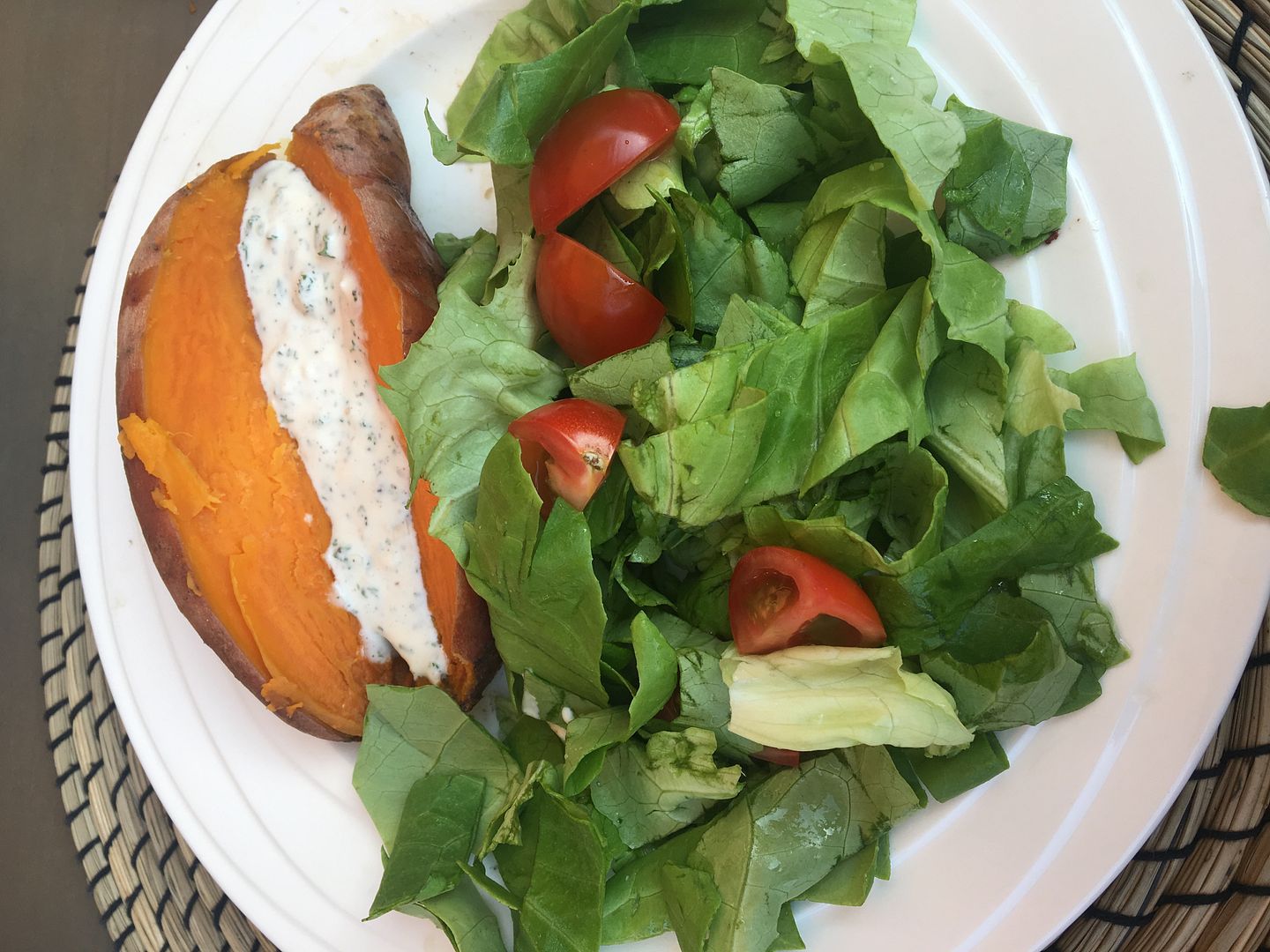 Zoete aardappel en knoflooksaus, twee van mijn favoriete ingrediënten van de laatste tijd. Mijn moeder maakte het allemaal extra lekker met dit recept voor zoete aardappel van de barbecue met zelfgemaakte knoflooksaus.
We kennen allemaal ondertussen de zoete aardappel en wij zijn er dol op. Om in de zomer met mooi weer vooral buiten te kunnen genieten verruil ik mijn keuken graag voor de barbecue. Een beetje gezond eten van de barbecue is echt niet moeilijk, want er zijn genoeg heerlijke eenvoudige gerechten te bedenken, zoals deze zoete aardappel in folie.
Ik reken meestal 1 aardappel per persoon.
1. Boen en was hem goed schoon, en droog de aardappel voordat je hem goed in aluminiumfolie inpakt.
2. Leg hem een half uur of langer, afhankelijk van de grootte, op de barbeque onder een gesloten deksel. Als je wilt weten of hij al bijna gaar is snij je hem een beetje open of je prikt met een satéprikker erin om te voelen of hij al zacht genoeg is.
3. Na ongeveer dertig minuten haal je de deksel eraf en laat je hem verder garen. Ook lekker is om de laatste 5 minuten de aardappelen uit te pakken doormidden te snijden en ze even op de snijkant een beetje een korstje te geven.
Natuurlijk hoort er een lekker sausje bij zoals deze verse knoflooksaus.
Benodigdheden
2 eetlepels zaanse mayonaise
3 eetlepels Griekse yoghurt
1 eetlepel fijn gesneden peterselie
2 tenen knoflook fijn gesneden
Theelepel honing
Himalaya zout en zwarte peper uit de molen naar smaak
Mix alle ingrediënten in een kommetje en serveer bij de zoete aardappel. Geniet!
Mam! Ik baal nog steeds dat ik niet ben uitgenodigd voor de barbecue waarbij je dit recept probeerde, het ziet er zo lekker uit. Beloof je dat je het snel weer maakt? Of nou ja snel… ik ben straks natuurlijk vier weken weg, maar deze zomer, alsjeblieft?
Liefs,
Annemerel