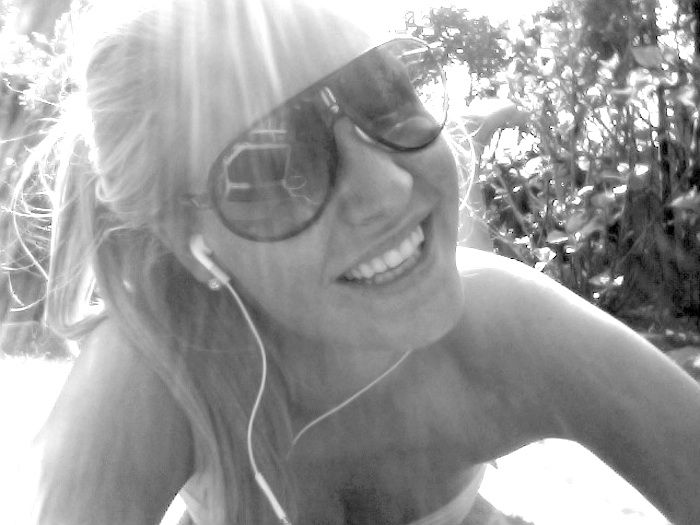 Hardlopen heb ik jaren in de zomer gedaan om net iets strakker te worden, maar sinds september 2010 heb ik nooit, ik herhaal
nooit
meer gelopen om af te vallen, of strakker te worden. En ik denk dat juist doordat ik niet meer loop voor mijn figuur, ik het nu wel volhoud. Wat mijn belangrijkste (letterlijke) beweegreden nu is? Ik wil een conditie waar je U (met hoofdletter!) tegen zegt en ik zoek ontspanning.
Ik kan trappen op lopen en na zes trappen verandert er nog amper iets aan m'n hartslag. Ik kan het duin bij mijn werk over sprinten met zes pakken melk onder m'n arm geklemd in m'n skinny jeans en zwarte colbert, en ik kom nog redelijk fris en fruitig aan. Weet je hoe fijn dat is? Je beseft eigenlijk pas hoe fijn dat is als je dat op eens niet meer kunt..
Dan die ontspanning. Ik ben eigenlijk altijd bezig. Ik ben vergroeid met mijn iPhone en m'n MacBook gaat nooit uit. Ik ben dan wel niet altijd aan het werk, maar doordat ik continu m'n twitter check of op internet surf onder het mom van 'inspiratie op doen' heb ik eigenlijk nooit rust. Zelfs als ik drie uur friendsafleveringen kijk zit ik ondertussen continu dingetjes op te zoeken. Tijdens het hardlopen kan ik dat niet en heb ik tijd om in m'n hoofd dingetjes op een rijtje te zetten. Dat klinkt heel dramatisch, maar dat is het niet.. het is gewoon fijn.
De cleanse die ik wil gaan doen is een weblog-experiment en heeft ook niks te maken met afvallen. Ik wil gewoon zo graag weten wat het met je lichaam doet en ik wil weten of ik het vol kan houden. Ik ben niet geobsedeerd door afvallen, maar wel door lekker eten. Ook hoop ik er een stukje 'cleaner' uit te komen. Niet slanker, maar met een paar kwaaltjes minder. Minder onzuiverheden op m'n huid, minder last van m'n buik, geen hoofdpijn meer.. Kijk natuurlijk, zo als ik al aangaf vrijwel iedere vrouw (zonder ondergewicht) zou het niet erg vinden om twee kilo kwijt te raken, maar dat is niet de reden waarom ik het wil doen. Ik zou het erg vervelend vinden als er ook maar één lezer een minder zelfbeeld zou krijgen door mijn blogs..
Ik wil inspireren, niet deprimeren.. Maar tegelijkertijd wil ik ook gewoon kunnen schrijven wat ik wil. Dat is het mooie van een eigen blog, geen restricties.
Ik hou van vrouwen die van zichzelf houden, die dat uitstralen. Die gelukkig zijn met wie ze zijn en zich niet laten beperken door een beeld. Ik hou van vrouwen met passie, gelukzoekers. Ik hou net zoveel van Gwyneth Paltrow als van Oprah Winfrey.
Liefs,