>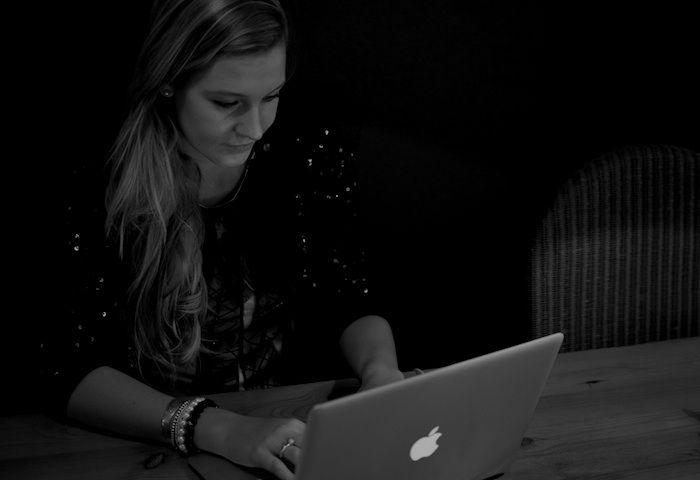 Zijn er kleine dingen die niemand weet omdat ze zo beschamend zijn?
Volgens mij zijn die er niet.. Ik kan heel lastig dingen voor me houden, dus er is niks wat alleen ik weet. En als die er zouden zijn zou ik ze zeker niet hier eventjes publiekelijk maken, hahaha!
Wat is je lievelingsdag van de week?
Maandag! De meeste denken, maandag, shit nog vijf hele dagen tot het weekend. Maar 1. Ik heb helemaal geen weekend zoals andere mensen dat hebben, door m'n werk in de horeca en 2. Iedere maandag voelt als een nieuw begin!
Wat is je politieke voorkeur, meer links of rechts? Wat vind je van de PVV?
Ik heb m'n lesje wel geleerd met ondoordacht m'n politieke voorkeur op internet uiten. Voor alles is wel iets te zeggen, vind ik. Ik heb op Rutte gestemd, omdat hij me een vette fooi gaf vorig jaar en heel lief lachte. Goed, dat is echt waar, maar natuurlijk niet de reden waarom ik op de VVD gestemd heb. Maar ik heb op m'n blog geen zin in politieke discussies. Ik kan het heel goed vinden met standpunten van verschillende partijen, links of rechts, maar ik ben uiteindelijk toch bij de VVD beland. Mijn ideale partij zou de GL zijn (Groen Liberaal).
Nu je geen suiker meer eet, mis je dan niet de variatie met drankjes?
Ja! Ik mis limonade!!! Maar verse vruchtensappen vind ik ook heerlijk, en die mag ik wel (met mate!). Ik drink heel veel thee en water met citroentjes erin! Als je zo drastisch mindert met suiker merk je vanzelf dat je de smaak van water met een klein citroentje er in veel meer waardeert dan wanneer je smaakpapillen verpest zijn door zakken winegums en flessen Cola.
Welke vijf voorwerpen zijn je het meest dierbaar?
M'n knuffelbeer met stip op nummer 1, daarna m'n sieraden en verder… is eigenlijk alles vervangbaar. Kijk die MacBook Air en die iPhone 4 zijn echt geweldig, maar die kun je in de winkel kopen, dat beertje en die sieraden, daar zit een verhaal achter en is me echt heel erg dierbaar.
Wat is je favoriete thee?
Verse muntthee, Jasmin Greentea, sowieso alles wat groen en wit is, gewone thee vind ik niet zo lekker.
Speel je games?
Ja Mariokart op de oude Nintendo 64 van m'n broertje die ik een paar jaar geleden heb baas gemaakt, hahaha! Ik ben daar heeeeeeel goed (geoefend) in.
Wat was de eerste CD die je zelf kocht?
Vroeger kreeg ik altijd Kinderen voor Kinderen, ik denk dat m'n eerste CD een Hitzone is geweest, nummer 8 volgens mij, die was groen met blauw als ik het me goed herinner.
Waar hecht je meer waarde aan, heel veel mensen om je heen of een paar echt goede vrienden?
Ik vind het leuk om met een hele groep mensen te zijn, ik vind het leuk om nieuwe mensen te leren kennen, maar ik heb liever een klein vast groepje dan een grote groep.
Naar welk land wil je ooit nog op reis?
De VS en dat gaat snel gebeuren, vind ik!
Wat heb jij met Jip & Janneke?
Nou…… De boekjes zijn me tot in den treuren voorgelezen, de oude boekjes, van m'n moeder geweest en die roken echt oud en dat was leuk! Ook had ik van m'n zesde tot m'n tiende Jip & Janneke gordijnen in m'n kamer!
Wat is je grootste droom?
Een penthouse in New York, een buitenhuis in The OC en eentje in Toscane. En ik werk als hoofdredacteur van de Amerikaanse Vogue, natuurlijk. Ik heb een lieve man en twee snoezige, goed opgevoede kindjes. Echt waar, in m'n dromen…
Wat is je meest favoriete boek?
Extremely Loud & Incredibly Close
Wat zijn je favoriete tijdschriften?
Grazia, ELLE, Jackie, Glamour, Vogue (US/UK/FR/IT), Womenshealth.
Heb je een tweede naam?
Ja! Eleonore. Ik was echt twaalf toen ik die naam voor het eerst goed uit kon spreken, haha.
Hoe hou je het vol om gezond te blijven eten?
Daar ben ik helaas geen ster in. Ik hoop dat ik het dit keer wel volhoud. De aanpak die ik dit keer heb? Ik mag heel veel eten, als het maar een klein beetje gezond is en er geen toegevoegde suiker in zit.
Wat is je lievelingseten, Steak Tartaar?
Steak Tartaar vind ik heerlijk! Maar ik vind alle Schaal & Schelpdieren ook goddelijk. Krab, Langoustine, Kreeft, Coquilles, yumyum! En Sushi natuurlijk.
Hoe heb jij je hardloopschema opgesteld?
De eerste keer dat ik ging hardlopen was toen ik net zeventien was. In de Glamour stond een artikeltje over beginnen met hardlopen. Ik moest dan een half uurtje naar buiten, eerst een minuutje rennen, een minuutje wandelen.. en dat in tien weken uitbouwen tot een half uurtje achter elkaar rennen. Nou ik was natuurlijk veel te ongeduldig, dus na twee weken liep ik al een half uurtje achterelkaar. Ik heb daarna een hele tijd niet gerend, maar ben zomaar een keer naar buiten gegaan en ineens liep ik een uur achter elkaar, zonder training of iets. Nu wil ik dat aan niemand aanraden, maar het ligt echt een beetje aan je instelling en als je niet te hard rent gaat het best (ik heb astma/bronchitis, dus echt ideale omstandigheden verkeer ik ook niet in). Je moet het gewoon doen!
Liefs,