>
Detoxen is psychisch best zwaar, fysiek valt het allemaal best wel mee. Maar moet je iets dat psychisch zwaar is, daarom maar gewoon laten vallen? Moet je als het even moeilijk wordt gewoon maar stoppen en vergeten? Ik denk het niet.
Mijn stukje van gister klonk voor sommige van jullie heel erg negatief en dat was het natuurlijk ook wel, maar dat was al mijn ongenoegen verpakt in een paar honderd woorden. Kijk, wat ik schrijf is 100% de waarheid, ik druk ieder gevoel dat ik heb uit, ongecensureerd. Waarom? Omdat ik een zo natuurgetrouw mogelijke detoxbeleving met jullie wil delen.
En ik denk dat er maar een heel klein percentage van de wereldbevolking in een detox IEDERE dag gelukkig is met zijn of haar beperkte lijst met toegestaan voedsel, toch?
Dag zeven was overigens niet minder makkelijk, maar ik heb de dag toch weer met vlag en wimpel doorstaan. Alhoewel… Ik heb erg weinig rauw gegeten, maar ik KON het gewoon even niet. Ik kon gisteren gewoon eventjes niks groens zien. Volgens mij zit die tijd van de maand er aan te komen, want ik heb nog nooit zo'n behoefte aan chocola gehad (en het wordt ook wel weer eens tijd). Dat zou ook m'n huid verklaren trouwens..
Om toch ook nog even iets positiefs te melden, ik heb al een week lang geen buikpijn meer gehad! Goed, nu nog uitvinden wat de boosdoener is geweest. Ik kan me een pure glutenallergie of intolerantie (of iets met gluten in een hele lichte vorm) eigenlijk niet zo goed voorstellen, ik denk dat het eerder een voedselcombinatie is, zoals gluten en vet, waar ik niet tegen kan. Ik zat namelijk laatst is te denken, bij m'n moeder kan ik prima pasta eten, ergens anders krijg ik vaak buikpijn. Wat is het verschil? Mijn moeder gebruikt heel weinig vet.
Goed, voordat ik daar achter ben zijn we waarschijnlijk alweer een paar jaar verder!
Wat ik gisteren gegeten heb?
8.30u Glas citroensap
9.30u Smoothie frozen mango / amandelmelk / passievrucht / blauwe bessen
11.30u Rijstcrackers
12.30u Glutenvrij brood met olijfolie
15.00u Banaan
17.00u Rijstcrackers
19.00u Pad Thai Noodles
21.00u Gojibessen
22.00u Rijstcrackers
24.00u 2 waterijsjes met puur fruit sap zonder toegevoegde stoffen
JUP, ik heb gisteren de rijstcrackers ontdekt!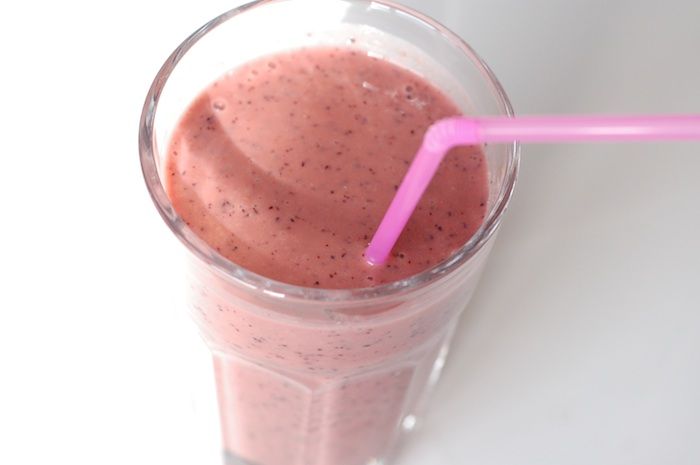 Mango, Passievrucht & Bosbes Smoothie
Benodigdheden:
100 gram frozen Mango
1 Passievrucht
100 gram bosbessen
100ml Amandelmelk
Blenden en ik beloof je, dit is de lekkerste smoothie die ik deze week gemaakt heb!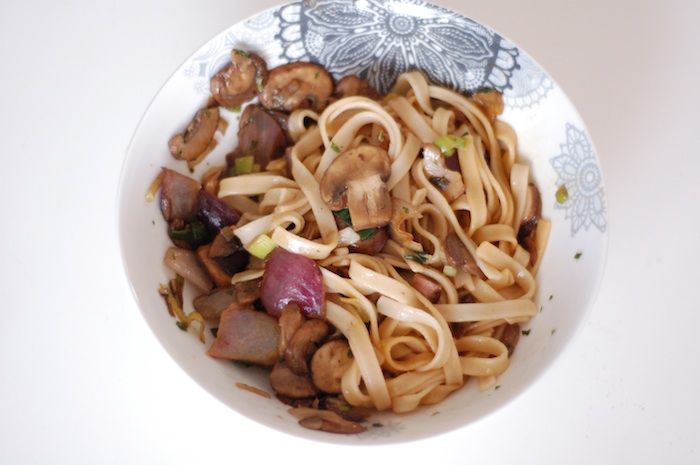 Pad Thai Noodles (Easy & Not so Raw)
Benodigdheden:
100 gram Pad Thai Noodles
1/2 zak Thaise wokgroenten
Glutenvrije, Suikervrije, Dierlijkeproductenvrije Shoyu
Kook noodles in een pan met kokend water (van het vuur) in 20 minuten gaar, wok de groenten, mix, breng op smaak met Shoyu en u heeft uzelf één van de makkelijkste, toch lekkerste noodles!
(Ik beloof dat ik snel weer echt leuke stukjes ga schrijven, ik moet alleen nog eventjes de tijd vinden! Excuses voor de mensen die deze stukjes helemaal niks aan vinden, ik vind het leuk om mijn detox op deze manier (deels voor mezelf) te documenteren!)
Liefs,