>
Laat ik maar gelijk met de deur in huis vallen, gister was verschrikkelijk, in alle opzichten.
Ik werd wakker met mind-numbing koppijn, echt zo'n band om je hoofd die steeds strakker werd aangetrokken zeg maar. Ver-schrik-kelijk. Wat ik normaal doe als ik dat 's ochtends heb, 600 gram roze happy pil, beter bekend als ibuprofen. Wat ik gisteren deed? Vijf kilometer hardlopen.
En ik moet zeggen dat zweten hielp wel enigszins, ik was het eigenlijk zo goed als kwijt, helaas niet voor lang, natuurlijk.
Om 13.00u moest ik werken en het was zo mogelijk nog drukker dan eerste paasdag, wat zeg ik, we zaten he-le-maal vol. En dat is natuurlijk super goed, gezellig, leuk, top en ieder ander superlatief, maar als de zon dan ook nog eens heel erg fel schijnt dan is die drukte nou niet bepaald bevorderlijk voor de hoofdpijn die nog ergens in mijn hoofd aanwezig is.
Dus het ging steeds een beetje slechter, tot het moment dat ik ineens heel erg emotioneel werd, m'n tas pakte en er vandoor ging. Het was toen ongeveer 18.00u. Ik reed snel naar huis en ik had de deur nog niet open of er kwam een stortvloed van drama naar boven, misselijkheid zeg maar. Ik zal jullie de walgelijke details besparen, maar het komt er op neer dat de pijn er aan alle kanten uit kwam. Ik ben in bed gaan liggen, heb m'n hoofd onder een kussen gelegd (onze gordijnen verduisteren dus niet en als ik migraine heb kan ik geen licht verdragen) en ik ben na een half uurtje in slaap gevallen.
Nog een paar keer heb ik de WC mogen bezoeken, maar vanmorgen om half acht was het klaar. Nergens meer last van! Dat is het mooie van migraine, tenminste, mijn migraine. Ik weet dat ik na een nachtje slaap alles kwijt ben.
Of die hoofdpijn nou een detoxverschijnsel is of dat ik de dag ervoor gewoon teveel inspanning had geleverd, I don't know? Het is wel gebruikelijk met een cleanse/detox dat je klachten eerst nog eventjes verergerd worden voordat ze verdwijnen, maar ik vind het eigenlijk nog te vroeg om dat soort conclusies te trekken.
Wat ik gegeten heb:
9.00u Glas Citroensap
9.30u Smoothie Mango/Banaan
12.30u Pasta met tomaten/basilicum saus
14.00u Chocolade gojibessen
15.30u Amandelen/Hazelnoten/Cranberries
17.30u Best Salad Ever (groot!) en 1 glutenvrije boterham met olijfolie
recept: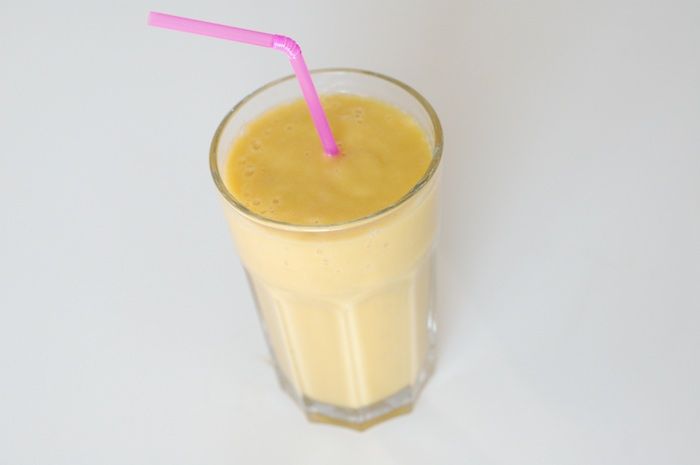 Smoothie Mango & Banaan
Benodigdheden:
1 banaan
1 mango
100ml amandelmelk
Blend Blend Blend, Geniet Geniet Geniet!
Liefs,