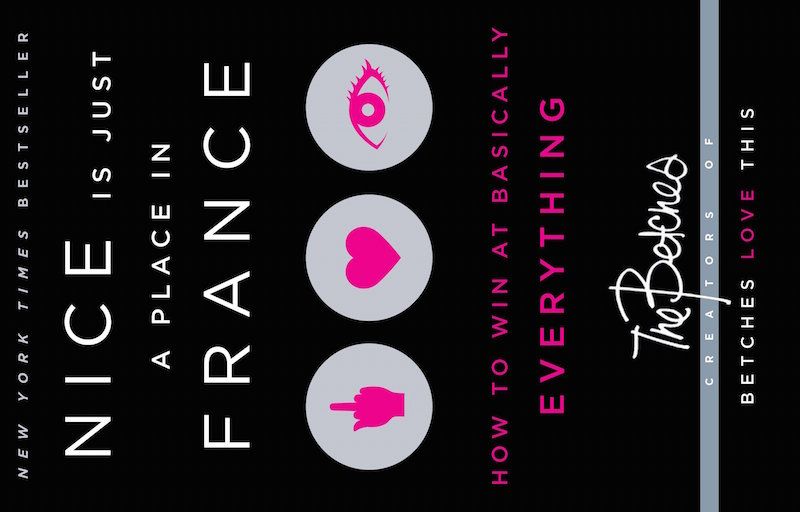 Eén van mijn favoriete Instagramaccounts is het account van de 'Betches'. Negen van de tien keer moet ik gewoon keihard lachen om hun instagramposts. Voorbeeldjes? "Stop editing ur pics, what if u go missing. How can we find you if you look like Beyonce on Instagram and waka flocka in person?" Of "Sorry I haven't texted you in a while, I haven't been drunk". En mijn favoriet… "Have you ever done some really deep investigating but then realize that you can't say anything because you'll end up looking like a crazy bitch". Need I say more, I love them!!!
Goed The Betches hebben dus ook ooit een boek geschreven, in 2013 alweer (hoe lang bestaat hun Instagramaccount dan al? Ik volg ze pas een half jaar!) en dat boek heeft de fantastische titel 'Nice is just a place in France – How to win at basically everything'. Moest ik lezen natuurlijk. En dat deed ik afgelopen week.
Het boek is hilarisch, maar je moet het vooral niet te serieus nemen. The Betches zetten zichzelf neer als leeghoofdige party animals met eet en drankproblemen, maar daardoor zijn ze – in hun ogen – wel succesvol. Dat moet je natuurlijk niet zo letterlijk nemen, daar moet je gewoon keihard om lachen. En waarschijnlijk zijn er ook wel wat dingen die voor jou ook herkenbaar zijn (ware het niet in zo'n extreme mate).
Nice is just a place in France bevat hoofdstukken als 'Getting Fucked Up: Yay!' en 'How To Party Like a Betch' en 'How To Text Like You're Kind of a Big Deal' 'Sexting: Getting Fucked in 4G'. Sorry, maar ik moet al keihard lachen bij het lezen van de titels van de hoofdstukken.
Er zit niet echt een moraal in het verhaal en het niveau is ook niet bepaald hoog, maar ik heb wel mijn buikspieren getraind.. en dat is ook belangrijk, toch?
Lachen: Lijkt me duidelijk.. Ja!
Huilen: Huilen van het lachen?
Irritatie: Soms ging het wel heel erg ver en was het ietwat grof, maar daar moet je je aan overgeven. Ik heb me er niet heel erg aan geïrriteerd.
Opvallend: Volgend jaar april verschijnt er een nieuw boek van The Betches, I had a nice time, and other lies zal de titel zijn. Oh en dit zijn trouwens de échte Betches.
Aanrader: Yes!!! Maar je moet er wel een beetje met humor naar kunnen kijken, anders zul je je vast doodirriteren aan het boek!
Hartjes: ?????????? 8/10
Je koopt 'Nice is just a place in France' van The Betches voor 13,49 bij Bol.com
IEMAND TIPS VOOR HET LAATSTE BOEK DAT IK DEZE ZOMER MOET LEZEN?!
Liefs,
Annemerel