>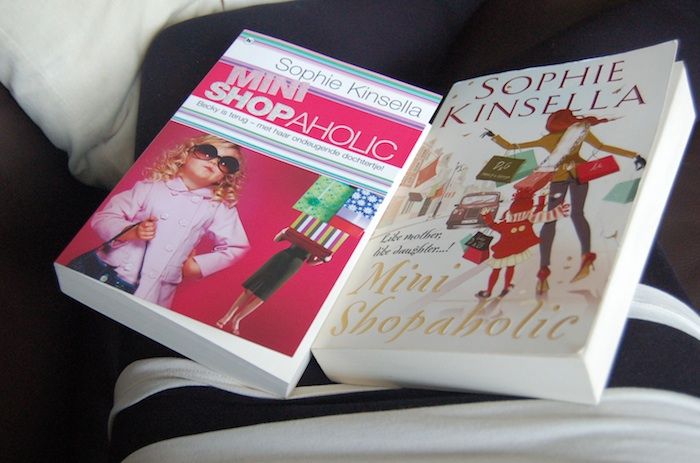 De nieuwste Shopaholic ligt hier al zo'n twee maanden in huis, maar heb ik pas vorige week uitgelezen. Dat was 1: omdat mijn zusje (de rechtmatige eigenaresse) het boek eerder uit wilde hebben en het te druk had (met huiswerk en televisie kijken) om hem snel uit te lezen en 2: omdat het boek niet spannend genoeg was om te riskeren dat mijn zusje me betrapte op het lezen van haar boek.
M'n zusje heeft het boek nog steeds niet uit (waarschijnlijk ook omdat het haar niet meer zo kan boeien), maar mijn moeder kocht het boek afgelopen week in het Nederlands en dus besloot ik de tweede helft van het boek in het Nederlands te lezen.
En wat een fout maakte ik daar. Kijk, in de Engelse versie denk je soms 'oh wat dom, hahaha' maar in de Nederlandse versie denk je 'oh wat dom, hou nu alsjeblieft op'. Ik weet niet wat het is met mij en Chicklits in het Nederlands. In het Engels kan ik er de humor van inzien, in het Nederlands absoluut niet.
Het boek is verder best vermakelijk. Becky is weer lekker aan het shoppen, samen met haar kleine monster, de inmiddels tweejarige Minnie. Er zijn momenten denk ik 'ooh dat zou ik in mijn stoutste dromen ook kunnen zeggen of doen' maar ze gaat soms wel heel erg ver, en dat is in het Engels nog wel grappig, maar in het Nederlands dom en vervelend. Het is een gevoelskwestie dat weet ik ook wel, maar ik vind de gevoelens die je bij een boek hebt minstens zo belangrijk als het verhaal. Misschien heel onliterair van mij, maar so be it.
Feit is, mocht er nog een vervolg komen, nummer zeven volgens mij? Nou, dan staat die gewoon weer op mijn verlanglijstje, in het Engels!
Liefs,