>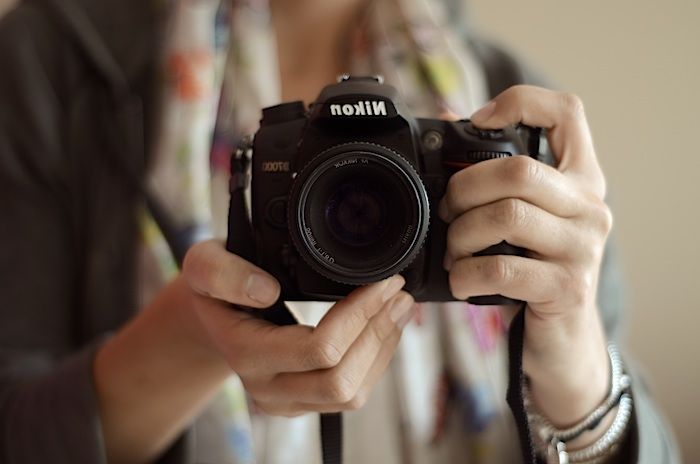 Ein-de-lijk in mijn handen en van mij. Mijn Nikon D7000. Ik ben beroofd van bijna een maandsalaris, maar daar spaar je voor, toch? De camera zou maandag of dinsdag geleverd kunnen worden. Maandag werd hij niet geleverd, dus vandaag moest het wel zover zijn. De camera kon tussen 8.00u en 20.00u geleverd worden. Hoewel de pakketjesmeneer nooit voor 12.00u komt, kwam ik om 8.45u gehaast bij mijn ouders (het afleveradres) binnen en checkte ik de brievenbus of 'ie niet toevallig al langs was geweest, gelukkig niet.
Van 8.45u tot 15.15u heb ik vol spanning aan de keukentafel gezeten. Ik zat veel te dichtbij de keukenkastjes die mijn gezonde spanning duidelijk gemerkt moeten hebben. En ik vind het heel erg vervelend om toe te geven, maar er is in die tijd ook nuttigs uit mijn handen gekomen. Op een gegeven moment ben ik maar een film gaan kijken, want 'werken' werd toch niks ik zat alleen maar bloglovin en twitter als een geobsedeerde maniak te controleren. Als ik een film zou kijken zou ik in ieder geval nog het idee hebben dat ik iets leuks gedaan had.
Winning London was de gelukkige film. Serieus die film staat gelijk aan jeugdsentiment voor mij. Zo'n film van Mary Kate & Ashley Olsen uit 2001, je weet wel fouter dan fout, zulk plat vermaak dat het zelfs voor mij te plat is om het daarom te waarderen. Snap je hem nog? Alleen maar gekeken ten goede van het jeugdsentiment.
En toen stond om 15.15u stond die arme Fred met vier dozen voor de deur (wij zijn nogal van het bestellen hier thuis). Fred is een beetje onze huisvriend aan het worden. Hij kent mij bij mijn voor en achternaam, ik hem bij zijn voornaam. Hij vertelt over zijn vakantie naar Frankrijk en Spanje terwijl ik mijn krabbeltje op zijn kleine apparaatje probeer te zetten.
Goed, over naar de hoofdzaak, mijn nieuwe camera. Mijn nieuwe liefde. Waarom ik zo verliefd ben? De D7000 ligt heerlijk in mijn hand. Hij is stoer, maar niet zo groot en zwaar als de D300s. De meeste instellingen stel je in met knoppen aan de buitenkant en niet in het menu. Thank God, want cameramenu's vind ik net doolhoven. De paar foto's die ik gemaakt heb geven mij een professioneler gevoel dan de foto's die ik maakte met mijn D50. Ik ben nog lang niet volleerd, maar ze zijn scherper, hebben minder ruis en de lichtopbrengst is fantastisch. Verder heb ik hem nu pas drie uur dus kan ik er nog niet veel meer over zeggen.
Jullie zullen het de komende tijd vanzelf wel zien denk ik ;-)
Liefs,