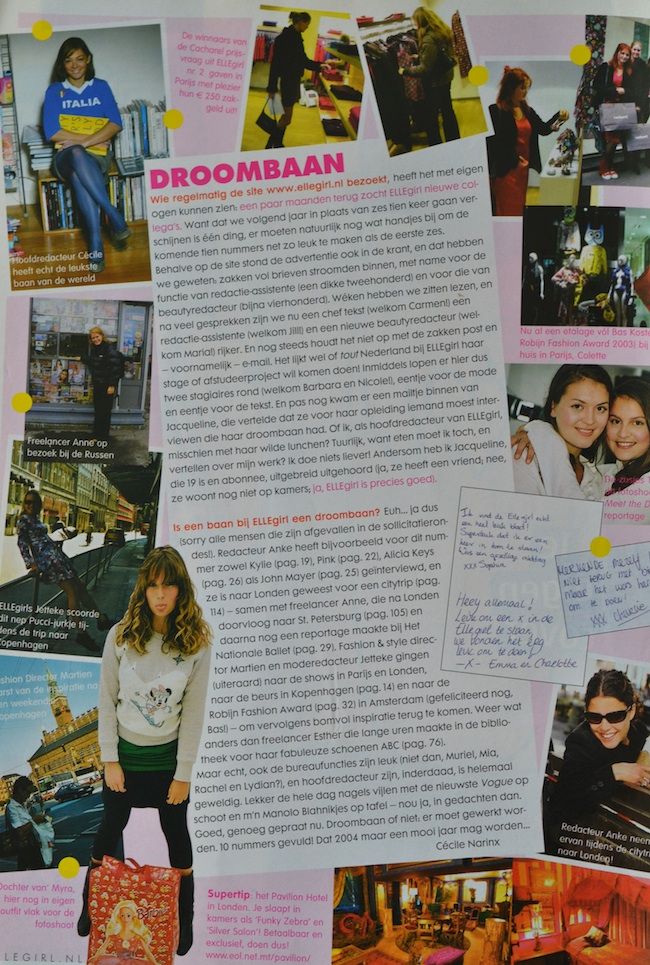 Kom ik zondag vermoeid uit mijn werk bij mijn ouders aan, loop ik (what used to be) mijn slaapkamer binnen, heeft mijn bed ineens een PIPdekbed en ligt m'n zusje erin. Als ik verder kijk zie ik dat bijna al mijn verhuisdozen zijn verdwenen en dat het zelfs een beetje opgeruimd is. De muren die eerst zandkleurig waren zijn nu wit en het is gewoon mijn kamer niet meer. Figuurlijk, maar ook letterlijk. Want m'n zusje is even geswitcht.
In m'n zusjes oude kamer kwam ik mijn verhuisdozen tegen en… stapels met oude ELLEgirls! Ik heb iedere ELLEgirl van het eerste nummer uit 2003 tot helaas het laatste eind 2008. En hoewel ik eerder abonnementen had op Tina en Young & Famous is ELLEgirl echt het tijdschrift waardoor ik van modeglossy's ben gaan houden.
Ik herinner me de aankondiging nog bij RTL Boulevard, door Fiona Hering, maar hallo, ik wist dat toen al lang want toen was ik natuurlijk al lid van het forum! Vooral de eerste nummers heb ik verslonden, maar dat is niet te zien! Ik nam hele jaargangen Celebrity magazines mee op vakantie naar Italië, maar op m'n ELLEgirls was ik zuinig, die hebben geen zwembad gezien!
Het is heerlijke nostalgie om door die oude ELLEgirls te bladeren. Wist je dat Lara Stone niet alleen op de allereerste cover model staat, maar ook in vrijwel iedere andere editie te zien is! She looks so young and fresh and adorable!
Oh en Doutzen's eerste cover! Op de derde ELLEgirl, zomer 2003! Met het welbekende sjaaltje wat ik nog steeds in bezit heb en wat afgelopen vakantie zelfs nog met me meereisde aan mijn koffer, zodat 'ie op de bagageband lekker opviel! (Thanks voor de tip lezers!). Oh ja en die editorial van Cecile heeft zeker aan mijn droom om voor tijdschriften te werken bijgedragen. In die tijd had ik net mijn blog, ik schreef voor de schoolkrant en ik wist het gewoon. Ik wilde schrijven en nooit iets anders meer doen.
Missen jullie ELLEgirl ook zo? ELLE is fantastisch en past nu ik 22 ben ook prima bij mijn leeftijd, maar ik weet zeker dat als ELLEgirl nog geleefd had, dat ik ook die iedere maand weer gekocht had.  Boehoehoe. Is er dan geen enkele manier om ELLEgirl weer nieuw leven in te blazen?
(Ik sta trouwens met m'n Demak'up advertorial in ELLE beach! Heeft iemand het al gezien? Ik heb de hele dag to sick to move op de bank gelegen onder een plaid, omdat ik het koud had, yes I'm dead serious, als ik me morgen beter voel is Bruna m'n eerste prioriteit!.)
Liefs,
Annemerel
Follow my blog on Bloglovin