>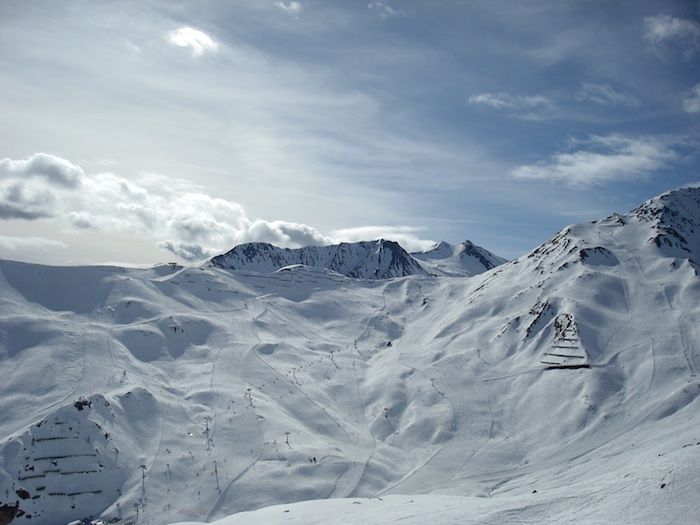 Nog één week totdat ik in de auto van m'n vader stap, m'n zusje links naast me op de achterbank, m'n vader achter het stuur voor me, mijn moeder naast hem. Uurtje of zeven in de ochtend, normaal veel te vroeg natuurlijk, maar volgende week maakt dat me niet uit, want ik stap dus in die auto en ik sluit mijn ogen voor minstens tien uur en word pas weer wakker net over de grens van Duitsland, in Oostenrijk.
We overnachten in het hotel waar we ieder jaar overnachten, we eten 's avonds de schnitzel die we ieder jaar op vrijdagavond eten. We gaan vroeg naar bed en staan de volgende ochtend om half zeven al weer op. We ontbijten van het meest uitgebreide ontbijtbuffet dat ik ooit gezien heb. Ik eet kaiserschmarrn en scrambled eggs, het liefst door elkaar. Ik drink groene thee, die in Oostenrijk altijd anders lijkt te smaken, en als toetje trakteer ik mezelf op een kiwi, die me ieder jaar weer zuur laat kijken (wat is dat toch met dat Oostenrijkse fruit?)
Om acht uur rijden we richting Serfaus, het dorpje waar we de komende zeven dagen zullen verblijven. De eerste keer dat ik het bordje Serfaus zie maakt m'n hart een sprongetje en ga ik op zoek naar de juiste muziek, want ik wil m'n vakantie natuurlijk wel herinneren met een leuk muziekje op de achtergrond.
Als ik de autodeur open kan ik er niks aan doen, dan moet ik een beetje lachen, lachen van geluk. We droppen onze spullen in het appartement, schieten snel in onze skikleding en met ski's op de rug en skischoenen onhandig om onze schouders, stokken in de hand, lopen we een kwartiertje naar de lift. Daar zorgen we er gelijk voor dat we die ski's de overige dagen gewoon netjes onder de lift kunnen laten staan, want dat sjouwen valt ieder jaar weer tegen.
We skiën, we drinken warme chocolademelk, we skiën, eten goulashsoep, we skiën, gaan als laatste naar beneden, storten op de bank, eten pizza of patat met knakworstjes, en liggen voor 22.00u op één oor, met onze ogen gesloten en onze gedachten ergens ver in dromenland.
En dit patroon herhaalt zich een week lang. Vanaf de tweede ochtend verandert het ochtendritueel een klein beetje. In plaats van het uitgebreide ontbijtbuffet loop ik iedere ochtend om 7.00u naar de bakker, wat dus veel leuker is dan dat het klinkt. We zouden iedere dag broodjes aan onze deur kunnen krijgen, toch kies ik ieder jaar weer voor de ochtendwandeling naar de bakker. Er is niets mooier om het dorp wakker te zien worden, door de straten wandelen in alle rust.. muziekje op, die frisse berglucht.
Arrghh ik moet kappen voordat er sentimentele traantjes in m'n ogen verschijnen. Needless to say, ik kan niet wachten tot volgende week!
Liefs,