>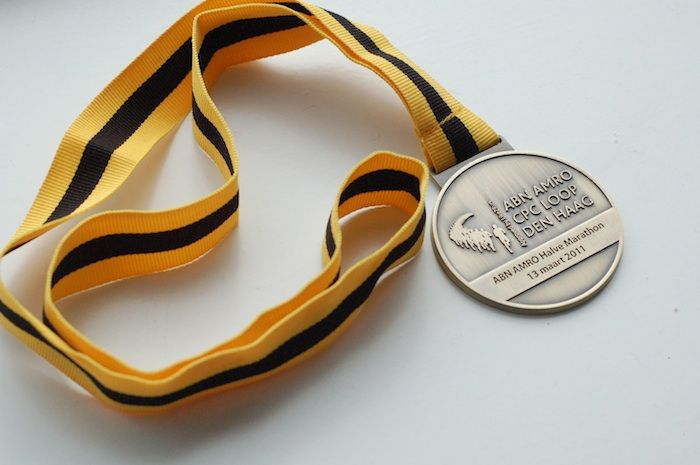 Iedere keer als ik aan het begin van een 'sportieve periode' sta, ben ik dol enthousiast en wil ik het liefst ieder moment van de dag sporten, na een paar dagen neemt die drang af, na twee weken is daar vaak niks meer van over. Ik stel mezelf dan vaak de vraag 'moet ik dit nu altijd blijven doen, de rest van mijn leven..?'
Maar deze keer gaat het anders. Op 1 januari, toen er op straat nog verdwaalde hoopjes sneeuw lagen, de temperatuur nog onder nul lag en ik een dikke vette nieuwjaarskater had, wilde ik hardlopen en ik ben nooit meer gestopt. Ik loop al bijna drie maanden hard. Natuurlijk zijn er ook weken (in februari) geweest dat ik minder liep, maar ik liep iedere week minstens één keer.
En ik denk nu te weten waarom het me dit keer wel lukt zonder deprimerende levensvragen als 'moet ik dit nu m'n hele leven blijven doen.' Ik leg mezelf geen druk op. Ik zeg niet, loop drie keer per week tien kilometer hard. Ik ga wanneer ik zin heb en dat is met die heerlijke zonnige dagen, dagelijks!
Wat ook helpt, is dat ik wat meer 'wedstrijdmentaliteit' heb gekregen. Ik hoef niet zozeer sneller dan anderen te zijn, maar ik wil wel graag mezelf verbeteren. En het is ook leuk om te zien dat ik mezelf ook daadwerkelijk verbeter. Maar iets in mij is veranderd, als ik nu een keertje niet zo snel ga is het jammer, maar ik heb wel gelopen, en dat is het belangrijkste.
Wat ik wil zeggen, het is belangrijk dat je jezelf niet te veel druk op legt, zodra je een sport gevonden hebt die je echt leuk vind en je verlangt van jezelf niet direct het uiterste, dan komt het wel.
Ik snap dat niet iedereen mijn liefde voor hardlopen deelt. Ik moet zeggen dat ik vijf jaar geleden nooit gedacht had dat ik ooit van hardlopen zou kunnen houden. Tijdens gymles kreeg ik altijd steken in m'n zij en ik heb last van bronchitis en een chronisch verstopte neus, dat was mijn excuus.
Maar het was 2006, en ik keek de film Sisterhood of the travelling pants en ik zag Bridget (Blake Lively) hardlopen, en er gepassioneerd over praten. Ik kon me er toen nog weinig bij voorstellen, maar het klonk goed en het zag er leuk uit, dus ik probeerde het, met een schemaatje uit de glamour
Natuurlijk ging ik veel te snel, ik liep iedere dag, na iets meer dan een week liep ik al twee keer een kwartier achter elkaar, maar dat was natuurlijk niet de manier, ik zou het echt niemand willen aanraden, ook al heb je de conditie, je doet je benen er geen plezier mee.
Ik ben vaak gestopt met lopen, en meestal kwam dat omdat ik ziek werd en het daarna niet meer kon opbrengen om weer verder te gaan, of ik vond dat ik het te druk had om te lopen. Of ik had er gewoon van de een op de andere dag geen zin meer in.
Sinds vorige week ben ik met mijn zusje aan het lopen. De eerste keer ging super goed, vijf keer vijf minuten hardlopen met een minuutje wandelen tussendoor. De tweede keer was een drama, ik denk niet dat ze het leuk vindt dat ik dit vertel, maar ze was veel te enthousiast en liep veel te hard, na twee kilometer kwam haar lunch van een paar uur daarvoor eruit. Zaterdag liepen we weer, maar een veel rustiger tempo, zes keer vijf minuten met een minuutje wandelen tussendoor. Ze was kapot, maar ik zag ook dat ze het ergens wel heel erg fijn vond.
Het liefst zou ik met iedereen persoonlijk mijn liefde voor hardlopen delen. Mijn hardloopflow voelt ongeveer net zo als lopen (en shoppen) in de PC op m'n verjaardag.. echt hoor!
Dus.. iemand zin om met mij hard te lopen?
Liefs,