>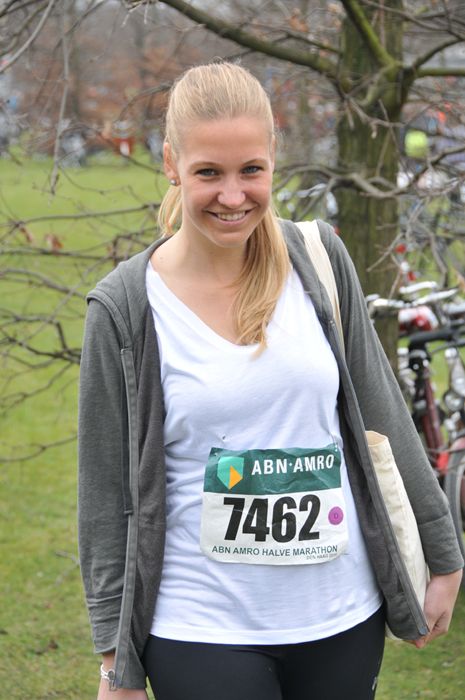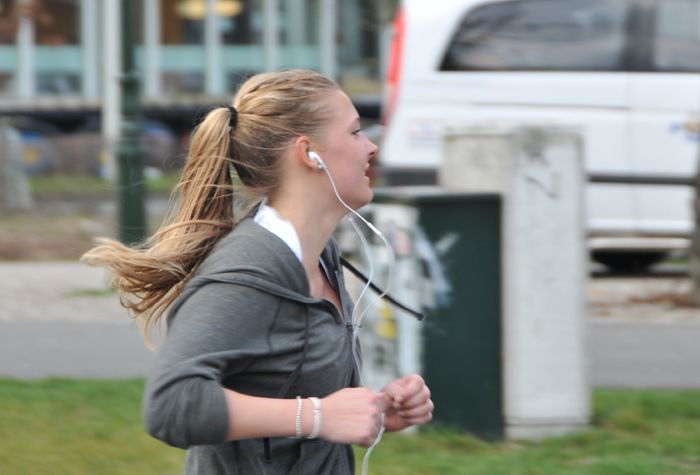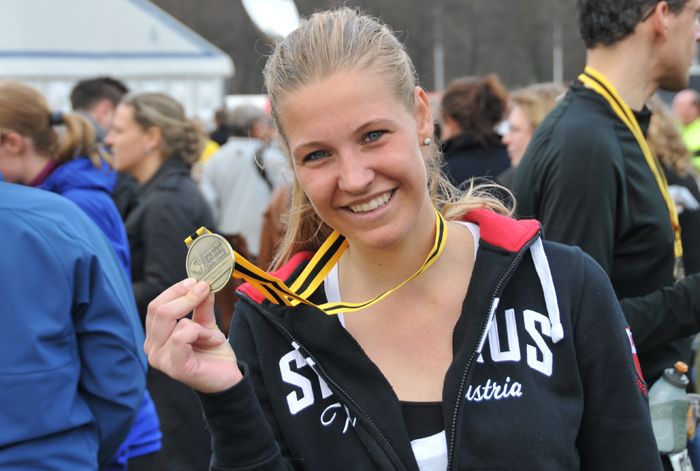 Het moment dat ik de deur verliet waren de zenuwen in één keer voorgoed verleden tijd. Ik liep naar de tram, die voor de verandering binnen tien seconde kwam aanrijden, ik pakte m'n boek en voelde me compleet op m'n gemak, ook al zit ik in een niets verhullend hardloopbroekje.
Het Malieveld, waar de start van de City pier City was, zag eruit als een bedevaartsoord voor hardlopers. Best wel gaaf om zoveel mensen met dezelfde sport bij elkaar te zien. Ik haalde m'n startbewijs, bevestigde startbewijs op m'n borst en tijdregistratie-tag op m'n schoen en zocht een fijn plekje waar ik rustig verder m'n boek kon lezen. Ik denk dat ik de enige op het hele terrein was die een boek aan het lezen was op dat moment, maar I had time to kill, en ik was gewoon benieuwd hoe het verder ging. Waarom dan niet lezen.
M'n vader haalde m'n spullen op, ik hield alleen een dun vestje aan, die zou ik voor de start wel uit doen. Maar voor de start was daar ineens geen tijd meer voor, want de rij voor het afgifte punt was dramatisch lang. Natuurlijk bereikte al had vocht wat ik die ochtend gedronken had ook net m'n blaas toen ik voor de start stond, maar daar was ook geen tijd meer voor. Per dixi stonden minstens twintig wachtende. Hallo zeg!
Dus ik liep met vestje en volle blaas naar m'n startvak, niet de meest ideale situatie. Zo koud als ik het de uren daarvoor had gehad, zo warm had ik het in het startvak. Er stonden zoveel mensen om me heen, het leek wel alsof ik in de mediamarkt was op zaterdagmiddag, zo'n warmte gaven al die mensen af. Het startschot heb ik niet gehoord (iPod stond te hard) maar op een gegeven moment zag ik iedereen om mee heen in beweging komen en dus kwam ook ik in beweging.
De eerste vijf kilometer was ik in euforische stemming. We liepen door het centrum van Den Haag, langs plekken waar ik normaal met de auto rij. Hoe goed ik me ook had voorgenomen om rustig te beginnen, onbewust liep ik toch te snel. Ik probeerde langzamer te lopen, maar het lukte me niet ik was zo euforisch dat ik de eerste vijf kilometer wilde sprinten.
Nou dat heb ik de rest van de kilometers geweten. Tot tien kilometer ging het goed, daarna begon ik het te voelen. Niet in m'n benen, maar op m'n borst. Ik ging rustiger lopen, maar ik kon het niet over m'n hart verkrijgen om te gaan wandelen. Maar toen ik de laatste keer m'n bekertje water ophaalde bij een van de waterpunten bedacht ik me.. Annemerel je hebt je nu twee keer eerder verslikt omdat je zo nodig hardlopend je bekertje water wilde leegdrinken, misschien moet je nu gewoon wat rustiger aan doen?
Maar ik weet nu niet of dat m'n slimste beslissing was, want het haalde me uit m'n ritme en de laatste zeven kilometer heb ik minstens vijf keer een stukje gewandeld.
De mensen langs de lijn waren ongelooflijk.. Ik kan me niet voorstellen dat ik zelf plezier zou halen aan 'recreanten' aanmoedigen tijdens een hardloopwedstrijd. Vergis je niet, tussen de eerste die finishte en de laatste zat gewoon dik anderhalf uur. En dan al die lieve kleine kinderen die hun handje uitstaken en hoopte dat je ze zou high fiven, zo schattig.
De laatste kilometer was nog steeds zwaar, maar toen ik eenmaal de finish in een ooghoek had gezien ging het snel. Onbewust verzamelde ik al m'n overgebleven krachten bij elkaar en wist ik er nog iets uit te persen wat in de ruimste begrippen als sprintje kan worden aangezien.
Bij de finish kreeg ik m'n medaille om maar het enige waar ik oog voor was waren de flesjes extran die ik mensen overal om me heen zag drinken. Toen ik ze gevonden had kon ik het niet laten gewoon twee flesjes aan te nemen. I was in desperate need of some sugary water. Suikerwater had nog nooit zo goed gesmaakt.
Ik vond m'n moeder en m'n zusje, m'n vader kwam later van z'n fotoplekje aangelopen. Ze waren trots op me, de nodige foto's werden gemaakt en gezamenlijk liepen we naar de auto. Die overigens zo'n twee kilometer verder geparkeerd stond. Ik heb in ieder geval goed uitgelopen. Bij de MacDonalds haalde ik een frietje, want oh wat had ik een honger.. na tien kilometer rennen begon m'n maag al te rommelen, iets wat ik nooit eerder tijdens het hardlopen had meegemaakt, elf kilometer hardlopen met een rommelende maag is no fun.


Toen ik thuis bij mijn ouders kwam heb ik eerst een half uur onder een warme douche gestaan, daarna heb ik twee uur voor dood op de bank gelegen. M'n vriendje haalde me om 21.00u op, hij had de champagne thuis al koud gelegd, maar ik sloeg af, ik was zo moe. Ik wilde bloggen, maar het lukte niet, ik wilde eigenlijk alleen maar slapen. Ik denk dat ik niet alleen moe was van die 21 kilometer, maar ook van alle spanningen die ik de afgelopen dagen gehad heb.
Goed genoeg tekst, jullie zijn nu vast benieuwd naar de uitslag. Ik liep 21,08 kilometer in 2.08.22, daarmee kwam ik op een mooie 6163e plaats, van de 7213 gefinishte (en de 10000 deelnemers). Kijk de perfectionist in mij zegt, je had bij de eerste 1000 moeten horen, maar ik weet ook dat dat niet reëel is. Ik train pas echt fanatiek sinds tweeënhalve maand, de laatste maand heb ik maar 25 kilometer hardgelopen, wat had ik verwacht? En eh.. dit geeft natuurlijk wel weer ruimte om me de volgende keer te verbeteren.
Liefs,