>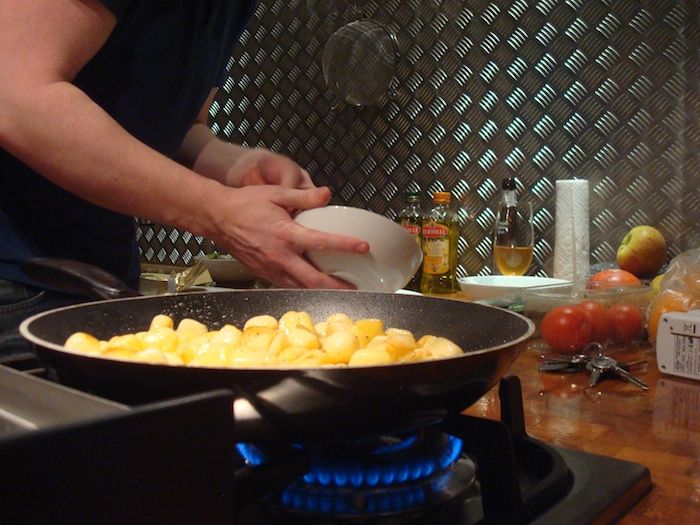 Gisteravond spendeerde ik éindelijk de avond én nacht in het nieuwe huisje. Met mijn geweldige allergische achtergrond was het eerder gewoon niet verstandig, maar het huisje krijgt nu vorm en de laatste muur is zelfs al geverfd! De hoeveelheid stof valt nu ook reuze mee, dus niks meer wat mijn eerste nacht in de weg kon zitten.
Remco kookte voor ons, en wijdde zijn eigen keuken in. Steak Tartaar, gebakken aardappeltjes en een salade met tomaat en basilicum, serieus, dit wil ik nu elke avond natuurlijk. Na het eten kropen we op de bank en keken we The Kings Speech, ik vind dat zo'n prachtige film en Rem had hem nog niet gezien, dus mooi excuus om hem nogmaals te bekijken.
Rem met z'n Whiskey uit z'n geboortejaar in z'n hand, ik met Baileys met ijs (in hartjesvorm!). Ik drink nooit Baileys, omdat ik weet wat er in zit en dat maakt me niet vrolijk. Maar gisteravond kon dat me eventjes niks schelen, ik zou twee glazen drinken en daarna gewoon stoppen. En of ik nou drie glazen wijn drink of twee glazen Baileys, dat maakt eigenlijk ook niks uit.
Om elf uur begonnen mijn ogen steeds dicht te vallen, ik keek naar Rem en die lag al heel rustig met z'n ogen dicht. De film was nog niet afgelopen, maar ik had echt geen zin om te vechten tegen de slaap. Dus sleepte ik ons richting de slaapkamer en we zouden pas tien uur later weer wakker worden door de bel van de voordeur.
Liefs,