>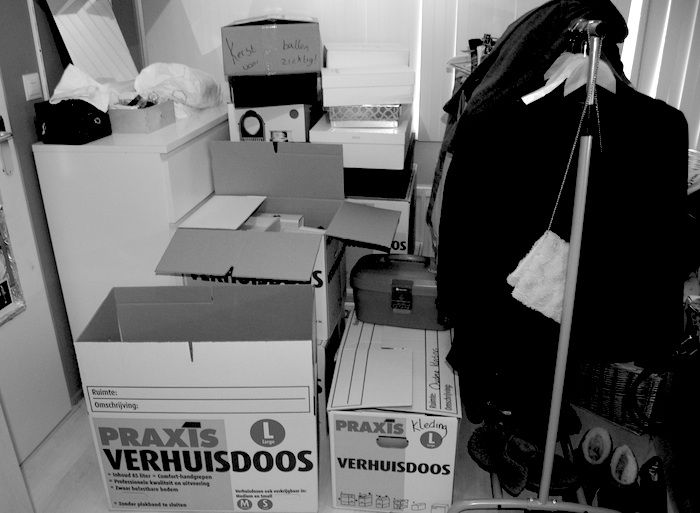 De ergste troep is ingepakt of weggegooid. Bijna tweeentwintig jaar heb ik de afgelopen paar dagen doorgespit. Ik ben nooit van m'n leven verhuisd, ik ben dus nooit eerder gedwongen m'n spullen uit te zoeken en eh.. dat was te merken. Wat een drama! Ik ben nogal sentimenteel aangelegd en afscheid nemen is niet iets wat hoog op m'n lijstje met favoriete bezigheden staat. Sterker nog, ik haat het. Nu moest ik én afscheid nemen van heel wat spulletjes én ik moet nu toch echt afscheid gaan nemen van m'n fijne knalroze kamertje.
Helemaal alleen kon ik het niet aan, die zeven vuilniszakken volproppen, daar had ik m'n moeders heldere blik voor nodig. Ik kan die beslissing gewoon niet maken, mijn verstand is op zo'n moment echt ver te zoeken. Want, wat doe je met al je poppen en poppenkleertjes? Dat gooi je toch niet weg. En wat moet je in vredesnaam met een collectie van meer dan twintig verschillende labello's? De helft is vergaan, maar het gaat om het idee, toch? Wat doe ik met de doosjes van al m'n electronica? Wat doe ik met m'n lege parfumflesjes verzameling? Wat doe ik met de 300 (geen grap) proefmonsters die ik van m'n elfde tot m'n veertiende verzamelde?
Maar ik heb het gedaan.. ieder laadje is omgekiept en uitgeruimd. Het enige wat weer terug is gegaan zijn de gezelschapsspelletjes, m'n poppen en hun kleertjes en de rapporten, plakboeken en eerste schriftjes van de basisschool. Oh en m'n bachelordiploma, die mag m'n moeder bewaren, ik zie het al gebeuren dat ik dat ding kwijtraak. Maar verder.. al m'n laatjes zijn leeg.
Als jullie hadden gezien hoeveel ik heb weggegooid… m'n vader grapte dat ik miljonair had kunnen zijn als ik niet zoveel onzin in de loop der jaren gekocht zou hebben.
En nu komt het moment steeds dichterbij. Zoals het er nu naar uit ziet slaap ik nog maar vier nachtjes in m'n eigen eenpersoonsbedje. We zijn namelijk van plan om direct de eerste dag ook gelijk de nacht in ons stulpje door te brengen, het is immers niet voor niets Valentijn! Of het een slim idee is? Waarschijnlijk niet.. ben bang dat die verflucht niet al te goed voor m'n gezondheid is, maar eh.. dat zien we dan wel weer. Toch?
Liefs,