>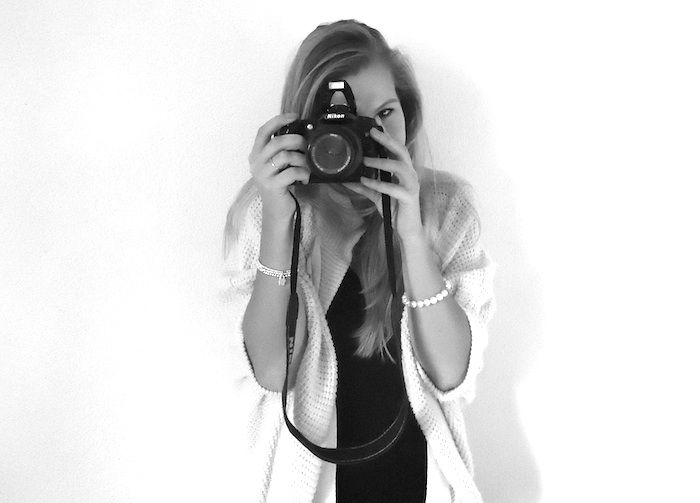 I love my little baby, m'n Nikon D50, bijna drie jaar geleden over gekocht van m'n vader. Van die drie jaar heeft 'ie nu pas slechts acht maanden dienst bewezen (ik had nooit tijd, energie om uit te vinden hoe het ding eigenlijk werkte en weet je hoe zwaar zo'n apparaat eigenlijk is?).
Maar sinds deze zomer ben ik hooked. Ik kan niet meer zonder, zelfs voor een middagje shoppen zit m'n Nikon in m'n tas en vaak ook als ik gewoon moet werken, want je weet maar nooit, toch?!
De Nikon D50 is geweldig, hij is niet zo zwaar als veel andere digitale spiegelreflexcamera's, hij heeft een motortje in de body, zodat je niet perse een lens met een motortje hoeft te kopen (en die zonder motortje zijn beduidend goedkoper!). Het is een prima camera voor beginners en hoewel ik eigenlijk misschien ook nog wel in de categorie beginners val, wil ik toch graag iets nieuws.
Ik heb m'n oog laten vallen op de Nikon D7000, sinds een paar maanden te koop en de beste 'non-professionele' camera die Nikon op het moment heeft. Als jullie goed hebben opgelet de afgelopen maanden, dan weten jullie eigenlijk dat ik m'n oog op deze camera al ergens in november heb laten vallen. Hij staat namelijk al sinds die tijd bij m'n cravings.
Maar ik wil zoveel he. Ik wilde ook een iMac, en vond eerlijk gezegd dat ik die net iets meer nodig had. M'n rug en geduld zijn me daar nog steeds heel erg dankbaar voor. Betekent niet dat ik niet continu vlinders in m'n buik voel als ik denk aan de Nikon D7000.
Nu heb ik een plan opgesteld, ik ga namelijk sparen, niet van m'n salaris want die spaarrekening heb ik de laatste tijd iets te veel uitgeput. Ik ga m'n fooien sparen, het geld dat ik krijg als ik af en toe een stukje schrijf, geld dat ik krijg van familie (ja m'n verjaardag duurt nog drie maanden, maar ik denk graag ver vooruit), geld in de spaarpot bij m'n oma (vijf euro per maand, maar hé alle kleine beetjes helpen en ik heb er al minstens twee jaar niks meer uitgehaald!), het geld dat ik krijg als ik m'n oude trouwe Nikon D50 verkoop en… het kleine beetje geld dat ik misschien met m'n weblog ga verdienen.
Goed, dat laatste zal ik even toelichten, want dat is ook eigenlijk een klein beetje de reden dat ik dit stukje schrijf. Ik sta al een paar maanden ingeschreven bij Blogmij, het mediabureau waar heel veel bekende blogs staan ingeschreven. Afgelopen maandag werd ik voor het eerst benaderd voor een advertorial. Ik heb getwijfeld, echt, want als ik dat soort stukjes ga schrijven krijgt men toch een heel ander gevoel bij m'n weblog, dat heb ik zelf namelijk ook bij andere blogs. Maar aan de andere kant, dit wordt voorlopig nog geen gewoonte. Ik sta al een paar maanden ingeschreven en dit is de eerste keer dat ik gevraagd wordt. Ik zal nooit over een product schrijven waar ik niet achter sta en eh.. het geld kan ik gewoon goed gebruiken. Het gaat absoluut niet om grote bedragen, daar is m'n weblog nog veel te klein voor, maar zoals ik al eerder zei, alle kleine beetjes helpen.
Ik schrijf al bijna acht jaar op m'n weblog en heb er nog nooit een euro mee verdiend en eigenlijk vind ik dat helemaal prima. Ik zou het geweldig vinden om hier m'n baan van te maken, maar dat is niet mijn drijfveer. Ik denk dat als dat je drijfveer is, dat het leuke van bloggen er dan in één keer helemaal vanaf is. Ik blijf graag zo persoonlijk mogelijk, ik denk dat dat ook het leuke van m'n blog is.
Goed, dat wilde ik eventjes kwijt, als het goed is komt m'n eerste advertorial vandaag online. Of het er meer gaan worden, daar doe ik nu nog geen uitspraak over. Maar ik beloof jullie, het zal m'n weblog verder niet veranderen, ik zal altijd duidelijk aangeven als ik voor een artikel betaald krijg, en eh… in the end, wordt m'n blog er alleen maar beter van, want eh.. als ik die mooie camera uiteindelijk kan kopen, worden m'n foto's natuurlijk veel beter! En dan zal ik nog meer foto's maken, want ik denk dat 'ie dan echt aan m'n handen zal zitten vastgelijmd!
(Oh en de advertorial die vandaag online komt, die zou ik zelf trouwens ook leuk vinden om te lezen! Super leuke actie, dus dat maakt het allemaal eigenlijk nog leuker!)
Liefs,