>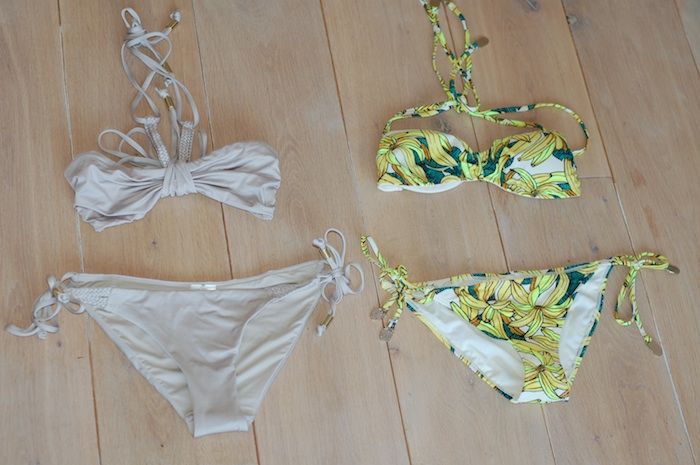 Nog maar twaalf dagen tot strand, blauwe zee, zon, salades, cocktails en heel erg veel plezier met Ashley! Vandaag heb ik zelfs twee bikini's gevonden die goed zaten en nog mooi zaten ook!
Ik ga trouwens iets ontzettend spannend doen op vakantie.. ik neem dan wel mijn MacBook mee (voor m'n foto's) maar eh.. mijn internetconnectie (die ik waarschijnlijk ook niet zal hebben) blijft de gehele week uit. Ik ga niet stiekem mijn 3G aanzetten omdat ik toch m'n email wil checken, of omdat ik wil weten wat er allemaal op twitter, facebook of NU.nl speelt, nee ik doe het gewoon lekker niet. Wish me luck. Dat is me namelijk al jaren niet meer gelukt. Laatste keer was… Karpathos 2009! Ook al zo'n fijn uitgestorven Grieks Eiland.
Maar dat betekent ook dat ik een keuze moet maken tussen of als een malle blogs schrijven of een weekje doodse stilte op Annemerel.com. Kijk dat laatste dat vind ik eigenlijk niet zo'n leuk idee. De wereld vergaat niet als er hier een week geen blogs geplaatst worden maar ik vind het persoonlijk gewoon niet zo'n leuk idee. Daarom ga ik voor plan één, maar daar heb ik jullie hulp bij nodig! Ik ben namelijk verschrikkelijk maar dan ook echt verschrikkelijk druk tot m'n vakantie. Ik slaap gemiddeld vijf uur per nacht en overleef alleen op de gedachte dat ik straks hele dag op een strand kan slapen. En tsja, het is dat ik mezelf volstop met Vitamine C bruistabletten en verschrikkelijk veel groente en fruit eet, anders was ik waarschijnlijk al lang ingestort. Mezelf een klein beetje kennende.
Oh goed, nu moet ik natuurlijk nog vertellen hoe jullie mij kunnen helpen.. Nou ik vroeg me af, wat willen jullie lezen als ik op vakantie ben. Hebben jullie nog prangende vragen? Zijn er onderwerpen waar je over wilt lezen (nee niet over m'n vriend, haha, dat wil hij liever écht niet!). En als jullie mij dan wat fijne inspiratie schenken, sluit ik me volgende week een dag op in bed met m'n MacBook en mag ik er pas uit als er voor iedere dag dat ik weg ben minstens één blog geschreven is.
Alvast bedankt lieverds :)
Liefs,