>
Een paar weken geleden konden jullie hier de Reebok Easytones winnen! De uiteindelijke winnaars waren Eva Jansen en Chantal Votel. Inmiddels hebben zij de schoenen een weekje gedragen en zijn zij klaar om jullie precies te vertellen over hun bevindingen!
Eva: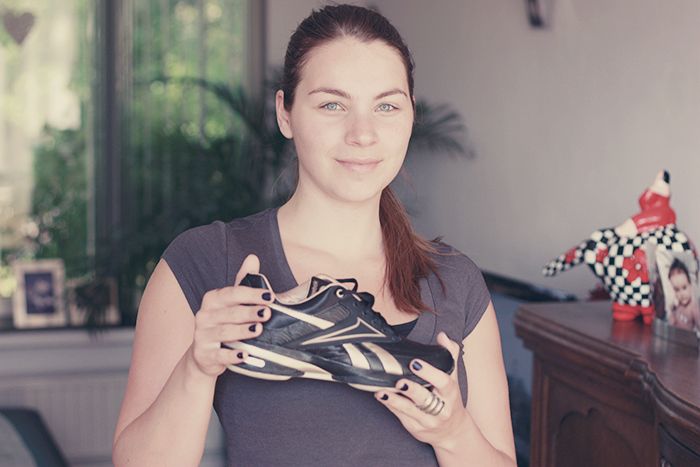 Vanaf het moment dat ik een berichtje kreeg van Annemerel dat ik de Reebok Easytone sneakers mocht testen heb ik de brievenbus goed in de gaten gehouden. Ik kon niet wachten om ze te proberen! Mijn billen kunnen namelijk best wel een lift gebruiken, nu de zomer voor de deur staat en ik weer in bikini aan moet treden. Blij was ik dan ook toen mijn vriend met een zwarte Reebok doos in zijn handen stond. Ik opende de doos en zag zwarte sneakers, met pastel roze accenten en ik was in love.
Jullie moeten weten dat ik een echt hoge-hakken-meisje ben, maar in deze Easytones durf ik me zeker te vertonen. Maar nu het antwoord op de vraag: zorgen de sneakers echt voor een strakker kontje? Of ze ervoor zorgen dat je net zo'n mooie booty krijgt als Eva Mendes? Nee. Daar is simpelweg veel training voor nodig en waarschijnlijk ook een goed dieet. Maar ze zorgen er zeker voor dat je bilspieren wat extra training krijgen. Ik merk dat ik een lichte spierpijn voel na het wandelen op deze sneakers. Ze lopen overigens echt heerlijk, dus dat alleen al is een reden om ze aan te schaffen. Je voelt niet dat je uit balans bent o.i.d., maar het lijkt net of je verende kussentjes onder je voeten hebt. Overigens zul je na een week ook niet echt veel verandering zien, maar ik ben heel benieuwd hoe het voelt als ik deze schoenen een paar weken heb gedragen.
Ik ga ze de komende tijd zeker vaker dragen, want wat extra training voor mijn bottom is altijd mooi meegenomen!
ps: De Reebok Easytones zijn niet geschikt om te gebruiken als hardloopschoenen. Door de balanskussentjes kan het eventueel zijn dat je je een verkeerde houding aanmeet, wat voor blessures kan zorgen. Als je de schoenen wilt gebruiken voor te hardlopen of andere sporten kun je wellicht beter de Reebok TrainTone of RunTone aanschaffen!
Chantal: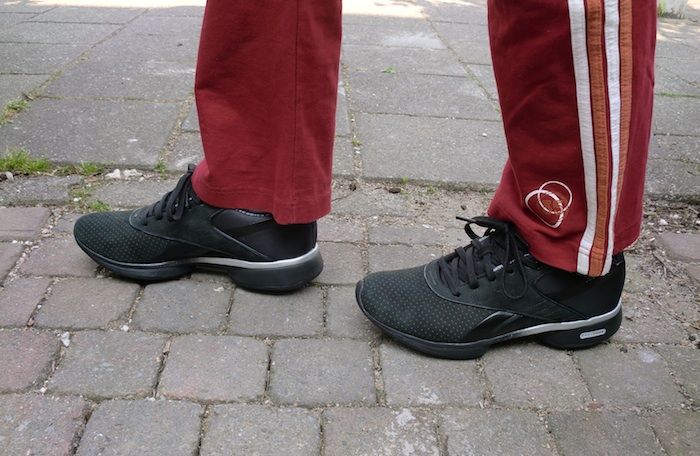 Wat me als eerste opviel toen ik het pakketje openmaakte was dat de Reeboks er zo leuk uit zien.
Ik vind het leuk dat het zwarte sportschoenen zijn, want die heb ik niet!


Ik trok ze gelijk aan en het voelde nog normaal, totdat ik ging lopen. Het leek wel alsof ik op lucht liep! Ik voelde heel veel vering en het was heel comfortabel.


Buiten heb ik ongeveer een uur gelopen, en het duurde even voordat ik eraan gewend was maar daarna was het heel fijn. 's Avonds voelde ik mijn bovenbeen- en bilspieren wel. De volgende dag heb ik weer een stuk gelopen, ze lopen zo lekker deze schoenen! Ik wil ze elke dag aan doen, zo comfortabel zitten ze.


Ik ben benieuwd of ik echt verschil ga merken in mijn bovenbenen en billen, zou natuurlijk fijn zijn. Maar ook al zou dat niet gebeuren, dan ben ik alsnog blij met deze schoenen. Want ze zijn mooi én ze zitten super comfortabel.


Heel erg bedankt Annemerel!!
Bedankt meiden! Ben benieuwd naar jullie bikini tushie van de zomer ;-)
Liefs,
Annemerel