>
Als ik dit schrijf zit dag twaalf er bijna op. Over een paar uur stap ik in de auto bij m'n ouders en m'n zusje en rijden we naar Berlijn. Ik ben er nog steeds niet uit in welke mate ik me aan mijn detoxrichtlijnen ga vast houden. Kijk ik wil wel, ik 'faal' niet graag en ik voel me ook beter. Maar ik weet ook, als ik met m'n ouders 'op vakantie' ben dan zal het heel erg moeilijk gaan worden. En ik wil het mijn ouders ook liever niet al te moeilijk maken. Dus ik denk dat ik gewoon ga doen waar ik me op dat moment goed bij voel. Go with the flow..
Goed nu over dag twaalf, ook een beetje anders dan de andere dagen, want de eerste dag dat ik een 'maaltijd' niet zelf bereidt heb (op de rijstnoodles van Remco na natuurlijk, maar dat telt niet want toen heb ik er met m'n neus boven op gestaan.
Ik ging met mama en Roos naar Amsterdam en die gingen naar Starbucks. Nu kan ik me bij Starbucks eigenlijk nooit inhouden en ook dit keer lukte het me niet zonder Starbucksbeker het filiaal te verlaten. Dus. De 'blend' van de dag zag er nog wel enigszins in mijn detox passend (let wel, enigszins) uit. Een milkshake van aardbeien en soja. Goed, ik weet dat het niet fantastisch is, maar het is vast beter dan de Caramel Frappuccino met extra slagroom!
Lunchen deden we bij de Bijenkorf en daar heb ik me voor mijn gevoel wel goed aan de richtlijnen gehouden. Ik nam mijn favoriet, de zelf samengestelde salade. Zo lekker met groene asperges, paddestoelen, rode biet, zongedroogde tomaatjes en… what not?!
Wat ik gegeten heb:
7.45u Citroenwater
8.15u Sinaasappel, banaan en aalbessen smoothie
11.30u Soja & Aardbeien milkshake Starbucks
13.00u Mixed Salad
15.00u Banaan
16.30u Notenmelange (heel veel!)
19.00u Pad Thai Noodles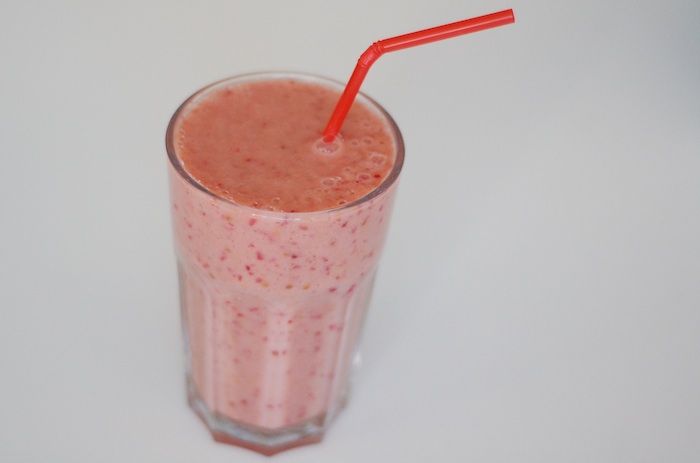 Banaan, Sinaasappel & Aalbessen Smoothie
Benodigdheden:
100ml Amandelmelk
50gr Aalbessen
1 Banaan
1 Sinaasappel
Blenden maar :)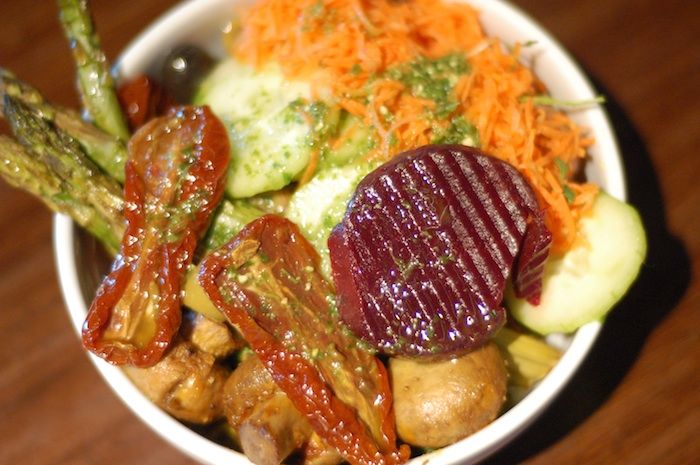 Mixed Vegetable Salad Bijenkorf
Liefs,