>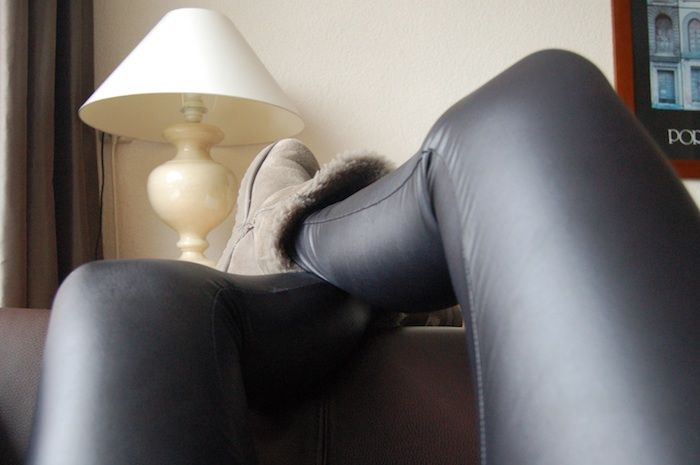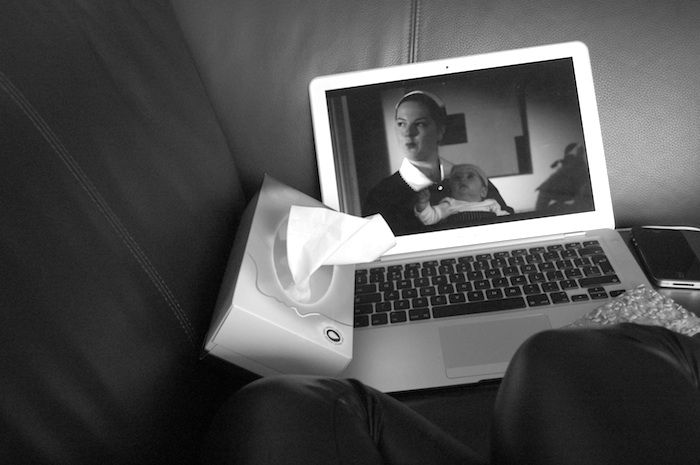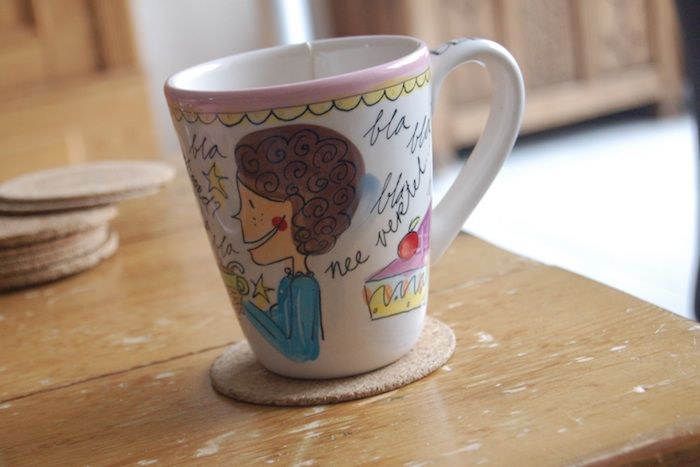 Soms wordt je wakker met zo'n gevoel van
'dat gaat niks worden vandaag'
en dan blijkt het uiteindelijk allemaal nog best wel mee te vallen. Dat was dus gisteren het geval.
Ik werd om vier uur wakker, viel uiteindelijk weer in slaap, ik werd om half acht wakker door een hevige commotie in de kamer naast me, maar ik kon niet opstaan, want mijn hoofd leek bijna te ontploffen. Uiteindelijk stak ik om half tien mijn eerste teen onder de dekens vandaan en een paar minuten later volgde ook de rest van mijn lichaam.
Ik wurmde me in een paar leggings, trok een dikke trui aan en m'n nieuwe dikke michelinmannetjes jas van Patrizia Pepe en met m'n uggs aan mijn voeten verliet ik ons warme huisje en betrad ik de witte sneeuw. Nog geen twee passen verder lag ik al bijna onderuit, dat was natuurlijk de perfecte waarschuwing, maar ik ging nog minstens twintig keer bijna onderuit.
Ik liep naar de Kleermaker met m'n zwarte BlueBlood Jeans, want de rits was kapot en ik moet hem vandaag aan. Stond ik bij de Kleermaker, was m'n rits op de een of andere wonderbaarlijke manier al lang gerepareerd. De Kleermaker zei de broek ook te kennen en de rits, ja dat was duidelijk een rits van hem, aldus de man. Heel bijzonder.. mama? Top! En een broek met een werkende rits, en geen geld kwijt.
Omdat ik toch in het dorp was kon ik ook meteen wel even bij het kledingwinkeltje tegenover de Kleermaker kijken. Niet dat ik veel verwachtingen heb van een winkel in Monster, maar goed, ik was op zoek naar een (nep)lerenlegging en had de dag daarvoor al heel Den Haag binnenste buiten gekeerd, zonder resultaat. En ja hoor, nog 3(!) lerenleggings van SuperTrash in mijn maat. En nog met 10% korting ook.. This must have been my lucky day.
Onderweg naar huis maakte ik nog eventjes een pitstop bij de nieuwe supermarkt, die dus twee keer zo groot is als de oude, met bijbehorend twee keer zo groot assortiment. En daar op de broodjesafdeling vond ik de meest lekkere crackers met zonnebloempitjes.
En zo kwam het dat ik een uurtje later, net gedoucht, met m'n nieuwe lerenlegging en een lekkere dikke trui, op de bank zat, met m'n crackers en een kop hete thee en de nieuwe Gossip Girl.
Puur genot.
En toen sloeg de klok 12.00u en was het tijd voor serious business.
Liefs,