>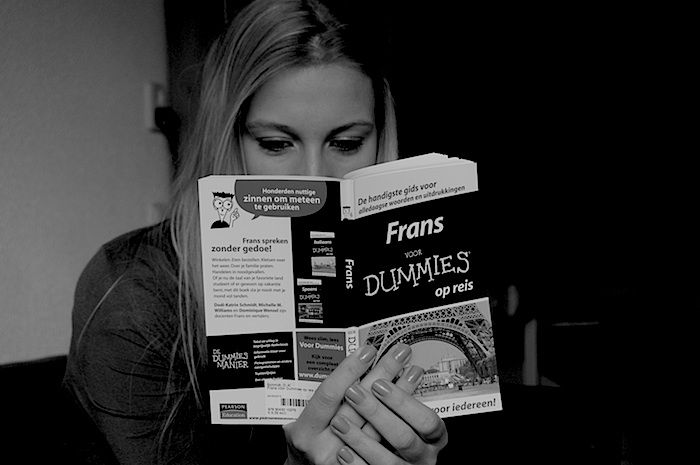 Hoewel ik zes jaar franse lessen heb gevolgd op school, ik mijn examen met een acht haalde en dat slechts drieenhalf jaar geleden is, spreek ik echt maar tien woorden Frans.
Je m'appelle Annemerel, je suis vingt-et-un ans, je suis serveuse et réceptionniste dans un hôtel et je t'aime faire du shopping et manger. C'est tout!
Oh en: Voulez-vous couchez avec-moi? Ce soir?
Het zal me niet verbazen als er zelfs in deze simpele zinnetjes 100000 fouten zitten.
Maar dan ga ik maandag naar Parijs en dan wil ik gewoon lekker kunnen winkelen en eten en niet met handen en voeten hoeven praten. Dus ik kocht gister Frans voor Dummies op reis, niet omdat ik dacht dat ik in drie dagen met dit boekje vloeiend Frans zou leren spreken, maar meer omdat ik toch wat woorden wil weten (en weer herinneren) om niet helemaal als een simpel blond geitje over te komen.
Ooit leer ik vloeiend Frans, dat weet ik zeker. Of dat bij de nonnen in Vught zal gebeuren, tijdens een taalcursus in Parijs of met een stomme avondcursus, I don't care, voor mijn 25ste spreek ik Frans en daar mag je me aan houden.
Nu eerst maandag naar Parijs met de paar woorden die ik ken. Ik kijk nog een keertje Sex and the City met Franse ondertiteling, lees een oude Franse Elle en Vogue, en leg mijn Frans voor Dummies boekje onder mijn hoofdkussen. Op hoop van zegen!
Je vais reussir, tout simplement parce que je refuse de perdre!
(Ik zal slagen, simpelweg omdat ik weiger te falen!)
Liefs,