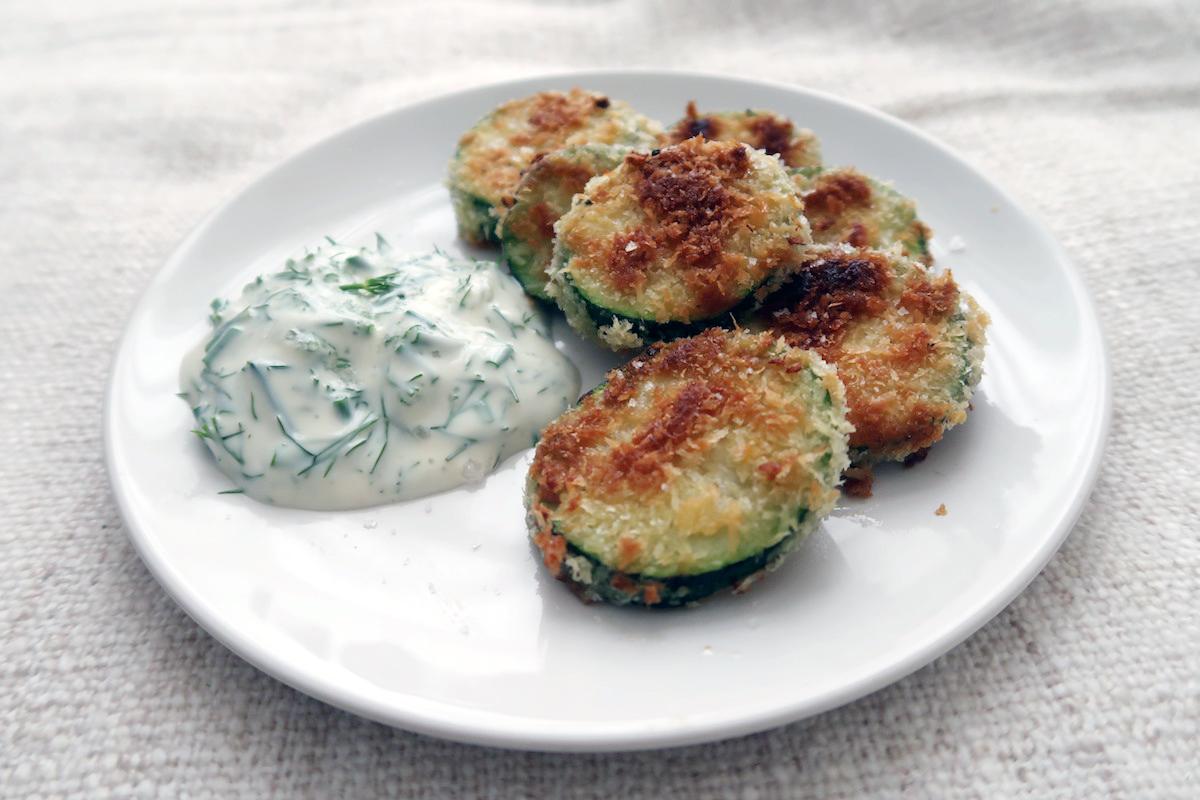 Ik heb de afgelopen tijd ontzettend veel zin in vet voedsel. En dan niet het goede vet, zoals vette vis of avocado. Maar het meest ranzige slechte vet dat er is. Chips, patat, kroket, dat soort ongein. Omdat ik hier (niet iedere dag) aan toe wil geven besloot ik afgelopen week een iets gezondere variant te maken op mijn ongezonde trek. Ik maakte courgette met een krokant korstje en dat voldeed helemaal aan mijn wensen. En is toch net iets voedzamer dan een zak chips of een visstick.
Benodigdheden voor de courgette
– 1 courgette
– 2 eetlepels bloem
– 1 ei
– Panko (Japans broodkruim)
– Koolzaadolie
Benodigdheden voor de dip:
– Alpro Mild & Creamy
– Dille
– Sap van citroen
Snijd de courgette in plakjes.
Pak drie bakjes eentje voor de bloem, eentje voor het ei (dat je even los klutst) en eentje voor de Panko.
Doe de courgette achtereenvolgens in de bloem, het ei en vervolgens de Panko. Leg apart op een bord en doe dit net zo lang totdat je alle plakjes courgette van een Pank0-jasje voorzien hebt.
Verhit in een koekenpan de koolzaadolie en 'frituur' de courgette.
Maak ondertussen de dip, mix de Mild & Creamy met de dille en het sap van een citroen, alles naar smaak (ik hou van lekker zuur dus deed er het sap van een halve citroen in, op 2 eetlepels Mild & Creamy).
Draai de courgette om als hij goudbruin is geworden en laat nu ook de andere zijde goudbruin kleuren.
ENJOY! (en probeer je tong niet te verbranden, wat ik dus deed).
Liefs,
Annemerel