>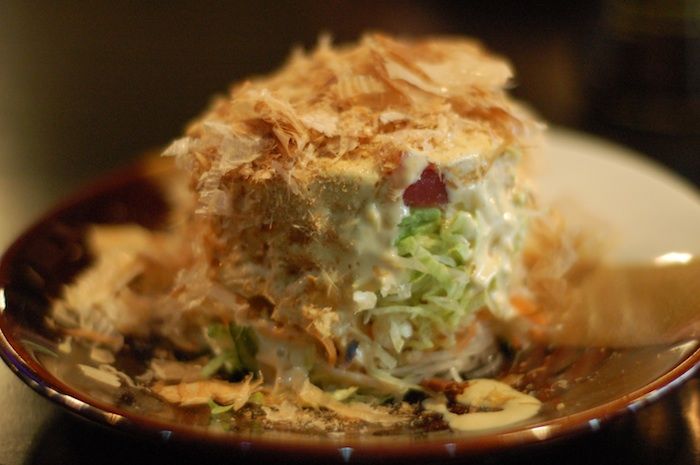 Er zijn dingen die zijn zo ontzettend fijn, maar door een nog op te lossen raadsel doe je die dingen eigenlijk veel te weinig. Voor mij is dat afspreken met vriendinnen. Het liefst deed ik dat iedere dag, maar helaas zijn er verplichtingen die er voor zorgen dat ik er vaak niet eens één keer in de week tijd voor heb/maak.
Such a shame…

Gisteravond had ik eindelijk weer eens een date met Laura. Hoewel de vorige keer, zo'n twee maanden geleden, we elkaar beloofden dat we binnen vier weken weer zouden afspreken, kwam dat er dus weer niet van terecht. Maar het mooie van mijn vriendschap met Laura is. Soms spreken we elkaar weken niet, maar als de één smst of belt, dan lijkt het bijna alsof we elkaar dagelijks spreken. Op het feit dat we elkaar dan verschrikkelijk veel te zeggen hebben na dan natuurlijk.
Goed, date met Laura, lekker eten bij NOH, een sushirestaurant in de Prinsestraat in Den Haag. Cadeautje van mij, want Laura is net als ik afgelopen week 22 geworden. Gewoon heerlijk relaxt met flesjes sparkling water met citroen en af en toe een fijn gerecht bestellen. Zo als mijn favoriet, de salade met tonijn, wasabi, avocado en bonito. Het was vier jaar geleden mijn eerste aanraking met de Japanse keuken en sindsdien droom ik hiervan. Na de salade werd natuurlijk een lading sushi besteld, om het vervolgens af te sluiten met een zeewier salade, edamame boontjes en grote tempura garnalen.
Het eten, hoe lekker ook, speelde vanavond niet de hoofdrol. Dat waren Laura en ik. Ken je dat, dat je mond zo over loopt van dingen die je nog wilt zeggen dat er drie gesprekken tegelijk worden gevoerd, dat je ogen tranen van enthousiasme, dat je bijna spierpijn krijgt van die verschrikkelijk grote glimlach die er om je mond zit.
Om 21.00u waren we uitgegeten, maar nog lang niet uitgepraat, dus liepen we de toeristische route (over het Binnenhof) naar het Plein om vervolgens neer te ploffen op een fijn verwarmd terras met goed uitzicht over het plein. Tussen de hilarische gesprekken met daarin uitspraken die Samantha van Sex and the City niet hadden misstaan, de Nieuw Zeelandse Sauvignon Blanc en de Van Dobben bitterballen door, spotten we Maxime Verhagen. En, gezellig dat we waren, probeerden we ook nog een glimp van onze Minister President op te vangen, helaas mislukt, maar mocht de pret niet rukken.
Het was zo'n avond waarop je grote plannen maakt voor reizen naar New York en Roadtrips door Europa, zo'n avond waarop ineens alles mogelijk blijkt. Zo'n fijne avond zonder zorgen voor de dag van morgen. Zo'n avond die je gewoon eigenlijk het liefst iedere avond zou hebben.
Liefs,