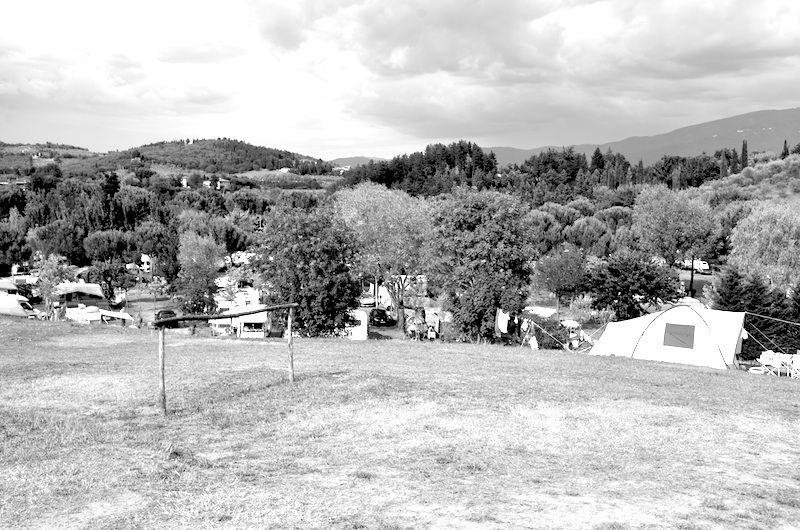 Voor ons was het niet alleen vandaag zondag, maar gisteren ook. Twee dagen met vrijwel alleen maar zon en dus voor ons een reden om te gaan zitten met onze zonnebrand en zonnebrillen op, bikini's (en zwembroek aan) en alleen maar opstaan voor een incidenteel bezoekje aan het toilet, een glaasje ijskoud water, een broodje of een groot stuk watermeloen.
Those days are mine… Ik vind het heerlijk om door een stad als Rome of Florence te lopen, of om kleine schattige authentieke dorpjes te ontdekken, ijsjes eten, pastaatjes lunchen, foto's maken, wijnen proeven. Maar zet mij op een stoel in het zonnetje, of net zo in de schaduw van een boom en ik ben ook zeer gelukkig. En de combinatie van steden bezoeken en van de zon genieten, die is voor mij perfect.
Vanmorgen hebben we besloten dat dit onze laatste echte "campingdag" zou gaan worden. Mijn ouders zijn inmiddels al drieënhalve week weg en ik hoef met mijn twee weken ook echt niet te klagen. De zon van vandaag was eigenlijk een perfecte afsluiter en aangezien er voor morgenmiddag toch weer donderwolkjes voorspeld zijn… Vanmiddag om een uurtje of vijf zijn we rustig aan begonnen met "afbreken" (want dat is het echt als je al drieënhalve week op dezelfde plek staat en als je weg bent met mijn familie die gewoon twee koelkasten bij zich heeft, een oven en een televisie met schotel) en morgen rond het middag uur (zo precies een half uurtje voordat de donderwolk is voorspeld) hopen we in de auto te stappen en richting Zwitersland te rijden.
Hoewel afscheid nemen van het "vrije" leven altijd lastig is heb ik ook wel weer zin in even thuis. Ik heb al sinds ik hier ben onwijs veel zin om hard te lopen en laat ik nu net m'n schoenen in Nederland vergeten zijn. Nou ik hoop dus dat het weer woensdag enigszins OK is zodat ik lekker naar Scheveningen kan rennen. Oh en ik wil naar de kapper want m'n haar is al een half jaar niet geknipt en ik begin me steeds meer aan het modelloze van mijn haar te irriteren. En ik heb zin om de honderden witte pistoletjes die ik hier eet te verruilen voor wat smoothies en maaltijdsalades en ja, het is gewoon weer even goed geweest.
Liefs,
Annemerel