>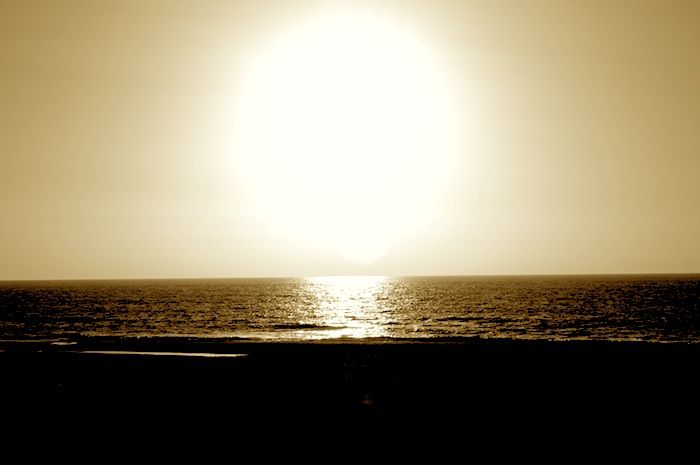 "And you probably don't want to hear tomorrow's another day
Well I promise you you'll see the sun again
And you're asking me why pain's the only way to happiness
And I promise you you'll see the sun again"
Dido – See The Sun


De zonsondergang is voor mij iets magisch. Die ronde gloeiende bal die langzaam in het water zakt, het is heel gek om te bedenken dat die zelfde ronde bal een aantal uren later aan de andere kant weer rustig om hoog komt zetten. Serieus, als je daar over na gaat denken, dan voel je jezelf toch nietig en klein?
Ik hou van de zon. Ik vind het heerlijk om 's ochtends om zeven uur wakker te worden van zonnestralen die door mijn (nog steeds gordijnloze) raam naar binnen schijnen. In de auto, met mijn zonnebril op en mijn raampje half auto en een wat oudere CD van Madonna uit mijn boxen. Of in de achtertuin van mijn ouders, terwijl ik aan het werk ben, of een kopje thee drink, of de kunst van het niks doen beoefen. Ik hou van de zon als ik door de stad loop, ik begin vaak spontaan te glimlachen, for no particular reason. En ik vind het dus prachtig om die zon 's avonds in zee te zien zakken..
De zon is ook iets waar je op kunt vertrouwen. Ook al is 'ie misschien niet iedere dag zo nadrukkelijk aanwezig, je weet, ook morgen zal hij gewoon weer aan de hemel staan. Voor niets gaat de zon op. Ik denk dat we daar best dankbaar voor mogen zijn :)
En daarmee lieve lezers, besluit ik mijn blogpost op ZONdag!
Liefs,