>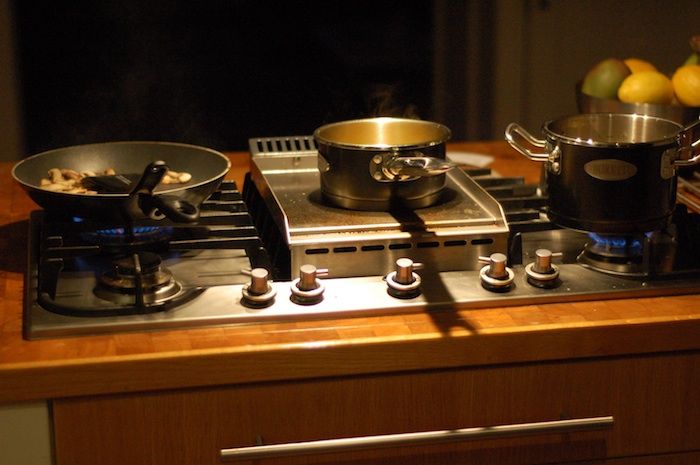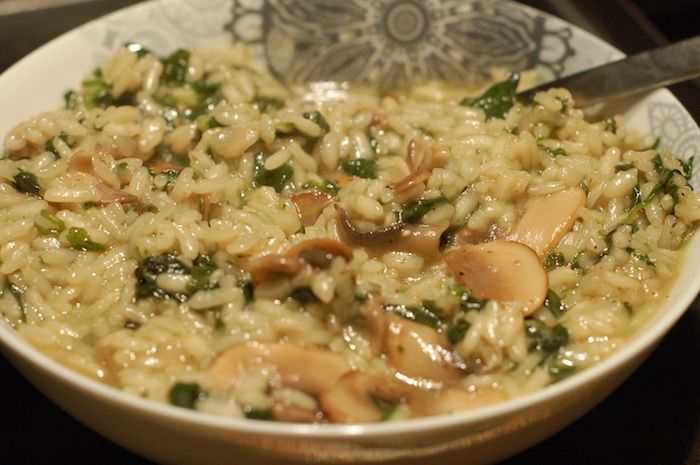 I LOVE Risotto en het is eigenlijk een van de makkelijkste gerechten om te bereiden. En.. het is zo makkelijk vegetarisch te maken. Mijn favoriete Risotto is met spinazie en champignons, dit maak ik vrijwel wekelijks, want het is zoo lekker en makkelijk!!!
Benodigdheden voor 2 personen:
200 gram risottorijst
Pannetje met groentebouillon
Glas Witte Wijn
Champigons
Spinazie
Rode ui
Teentje knoflook
Olijfolie
Zwarte peper
Walnoten (optioneel)
Voor de Bouillon zet je een pannetje water op het vuur en voeg je een groentebouillon blok toe, je kunt natuurlijk ook op een andere manier bouillon maken, maar dit is toch wel de meest makkelijke en snelle oplossing.
Snij de ui en knoflook fijn en laat met een beetje olijfolie in twee minuten in de pan aanfruiten. Voeg daarna de risottorijst toe en roer goed door elkaar. Als de rijst doorzichtig is geworden kun je het glas witte wijn toevoegen, blijf ondertussen goed roeren en zet het vuur iets lager.
Snij ondertussen de champignons fijn en bak ze in een koekenpan met een beetje olijfolie aan. Zorg wel dat je tussendoor goed blijf roeren in de pan met rijst, anders koekt de rijst aan de onderkant van de pan aan en dat is dus niet de bedoeling. Als de risottorijst 'droog' komt te staan, voeg je wat groentebouillon toe. Als de champignons zijn aangebakken roer je ze door de risotto heen. Hoe eerder je de champignons toevoegt hoe meer smaak de risotto zal krijgen.
Hierna zorg je dat de spinazie gewassen is en laat je de spinazie slinken met een klein beetje olijfolie in de koekenpan. Je kunt hier eventueel ook wat walnoten aan toevoegen, maar dat is volkomen optioneel. Onthoud, vergeet niet te blijven roeren in de pan met risotto. Als de spinazie geslonken is kun je het door de risotto roeren.
Nu is het een kwestie van geduld. Blijf roeren in de pan en zodra de rijst weer 'droog' staat voeg je extra bouillon toe. Voeg naar smaak zwarte peper toe, je kunt ook wat zeezout toevoegen, maar veel bouillonblokken zijn van zichzelf al aardig zout, dus dan is extra zout absoluut niet nodig.
De risotto is klaar als de rijst zacht is geworden en het meeste vocht is opgenomen door de rijst of verdampt (je wilt natuurlijk geen risottosoep, dus voeg ook nooit teveel vocht in één keer toe!). Verdeel de risotto over twee borden, ze de risottopan gelijk in het water (anders krijg je hem nooit, of in ieder geval heel lastig schoon) en het allerbelangrijkste… geniet!
Liefs,