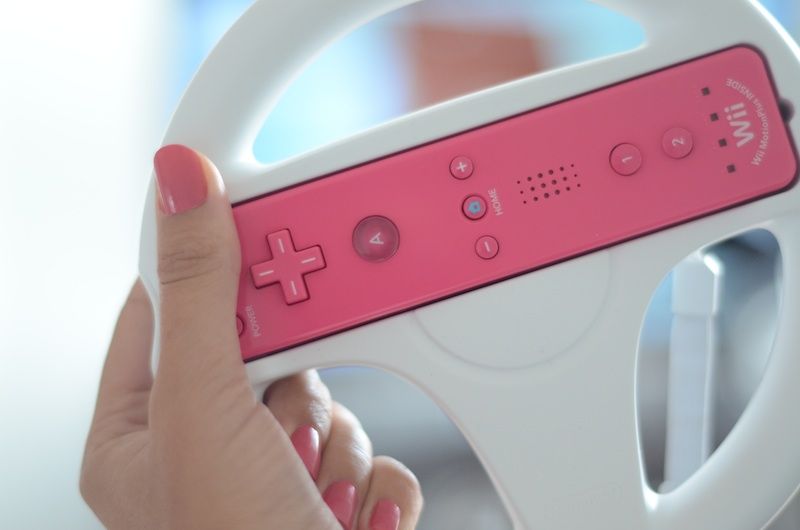 Wat doe je als je naar de mediamarkt gaat voor een nieuwe printer? Dan koop je een wii! Want dat is heel vanzelfsprekend en vooral heel erg verstandig.
Laat ik jullie eerst eventjes op de hoogte brengen van mijn relatie met Nintendo. Toen ik een jaar of zes was kreeg ik een gele gameboy, die ik overal mee naartoe sleepte en waar ik vooral Marioland en de Smurfen op speelde. Na een paar jaar raakte ik natuurlijk verslaafd aan het pokemonspelletje en toen was het ook alweer tijd voor een nieuwe Gameboy, een Gameboy color in het turquoise. Ondertussen was ik ook een groot Ninento 64 fan en dan vooral Mario Kart! Toen wij thuis al lang een Gamecube en een Xbox360 gekregen hadden, speelde ik nog steeds Mario Kart op de Nintendo 64 (waar ik zelfs nog first dates aan over heb gehouden, ik bedoel maar, sentiment!)
Een paar jaar geleden kregen we thuis de Wii, ik heb ongeveer één week in de kerstvakantie zeer fanatiek getennist en daarna lag m'n arm half uit de kom (ik ben niet alleen fanatiek, maar speel ook zeer agressief, you know..). Sindsdien heb ik het ding eigenlijk vrijwel niet meer aangeraakt. Rem wil al jaren een Wii, maar het kwam er om de een of andere reden gewoon steeds niet van. Eerst was de 'Wii Play' (de controller) overal uitverkocht, toen hadden we het te druk met andere dingen, daarna was er weer iets anders wat toch net even belangrijker was, je kent het vast, toch?
Maar donderdag toen we heel serieus naar een printer op zoek waren, zei ik "Kijk Rem, de Wii…" En ik zag gewoon meteen dat dat ding diezelfde middag nog bij ons thuis zou staan (en dat we de printer voor later zouden bewaren). Rem kocht de Wii met Mario Kart, ik kocht een knalroze Wii play en Wii Sports. M'n arm begint alweer lam te worden, but I'm having lottttts of fun!
Liefs,
Annemerel
Follow my blog on Bloglovin