>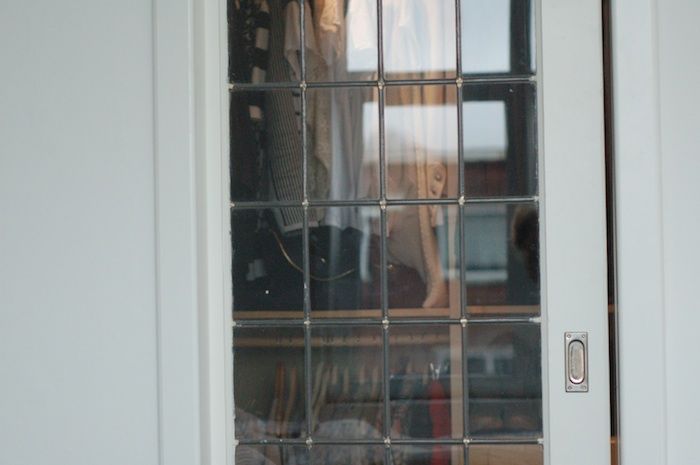 Ik woon inmiddels zo'n anderhalve maand samen en vandaag heb ik ein-de-lijk m'n kast echt goed ingericht. Dat zou m'n vriend natuurlijk een paar weken geleden doen, maar wat bleek, ik had natuurlijk lang niet genoeg hangertjes om alles netjes op te hangen. En voordat ik dan uiteindelijk hangertjes heb, ja dan zijn we snel alweer twee weken verder.
Lang heb ik getwijfeld hoe ik m'n kast in zou delen, maar uiteindelijk heb ik toch gekozen voor de minst handige oplossing (logisch..). Net als m'n boekenkast, is alles gesorteerd op kleur. Ik doe er nu waarschijnlijk twee keer zo lang over om m'n kledingstukken te vinden (dertig+ zwarte kledingstukken naast elkaar.. om maar een voorbeeld te noemen), maar het staat zo netjes! Ik beloof dat ik snel een filmpje zal maken, maar het was vandaag van dat grauwe weer en ik maak liever een filmpje met mooi daglicht.
Verder stond vandaag in het teken van Ikea, waar we een malm ladenkastje met vijf laden gekocht hebben in dezelfde kleur als ons bed. De kast zit nu al helemaal vol, met dvd's. Mijn eigen collectie beslaat nog niet eens één la, die van Rem is gewoon vier lades. Oh en het allermooiste, er is maar één film in zijn hele collectie die ik wel zou willen zien, The Holiday (die ik natuurlijk al dertig keer gezien heb). Ik ben nu eenmaal echt een chickflick-meisje.
En terwijl Remco het kastje in elkaar zette, was ik aan het stofzuigen en strijken. Man ik heb in twee uur tijd zoveel respect voor m'n moeder gekregen. Stofzuigen is zo erg nog niet, maar strijken.. halleluja. Ik heb zo'n drie kwartier over vijf overhemden van Rem gedaan (m'n eigen kleding laat ik voor het gemak gewoon maar zitten). Seriously, waarom leerde ik vroeger het verschil tussen een spijker en een schroef bij techniek en maakte geen leraar zich druk of ik wel overweg zou kunnen met een strijkijzer?!
Het huishouden.. het is niet niks. En het vervelendste is, je bent nooit klaar. Heb je net de keuken schoongemaakt, ga je lunchen, kun je weer opnieuw beginnen. Hallo Annemerel, welcome to the real world!
Liefs,