>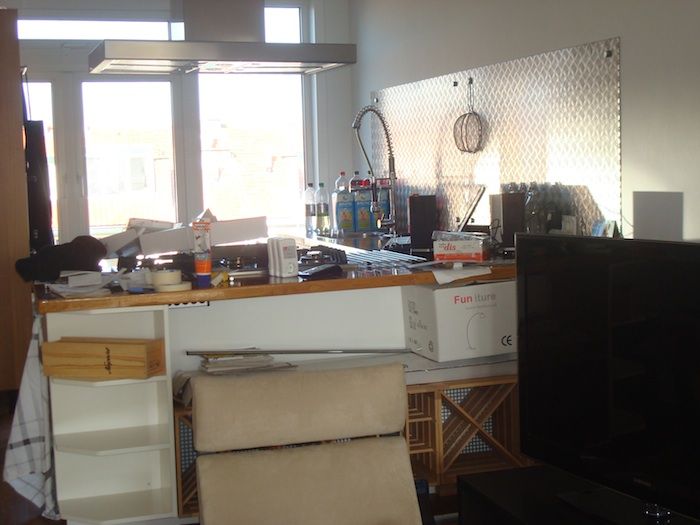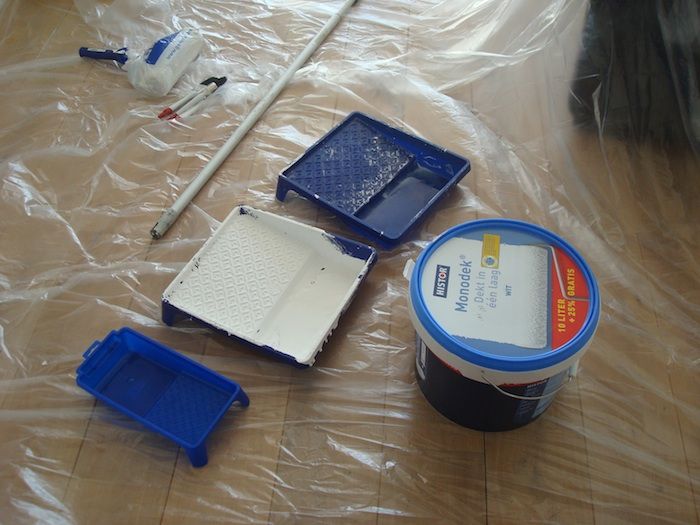 Zoals ik gisteren al zei, het bed staat, en daarmee is de kamer ook gelijk gevuld, haha! Gelukkig hebben we een inloopkast voor onze kleding, want een kast het er met geen mogelijkheid meer bij gekund! Ik ben groot fan van de slaapkamer! Het allerleukst vind ik het kastje achter het bed, met de retro nachtlampjes en de boekjes. De zijkant van de kastjes kunnen we ook uittrekken, een echt nachtkastje dus!
De keuken zag er de eerste dag zo mooi uit, inmiddels is het daar echt een regelrechte chaos geworden! Echt jammer, is de ene kamer klaar, is de andere ruimte weer een zooitje! Dat zal wel verhuizen heten zeker?
Gistermiddag hebben we de woonkamer gewit en toen we daar na twee uur klaar mee waren, konden we ein-de-lijk de woonkamer inrichten, in hoeverre je het inrichten kunt noemen natuurlijk, want erg veel meubels hebben we nog niet. De stoel die jullie rechtsvoor zien is ook nog een interim stoel, daar moet nog een mooier exemplaar voor worden gevonden, maar tot die tijd zit deze stoel wel heel erg lekker.
Nu het dilemma, wat vinden jullie van de lijst met oude wereldkaarten boven de bank? De lijst blijft sowieso hangen, want als we die van de muur willen halen zal de stuc van de muur af worden getrokken. Maar zullen we de wereldkaarten erin houden? Ik vind het heel erg gaaf en Rem ook, maar het is misschien leuk als we er zelf iets voor verzinnen, nu blijven het altijd, of in ieder geval de eerste tijd, de wereldkaarten van de vorige bewonder.
What to do?
Liefs,