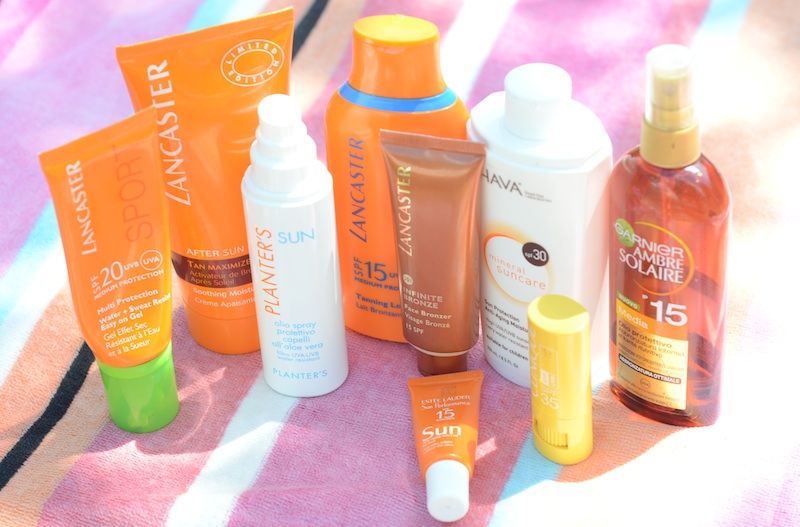 LANCASTER SPORT SPF 20 UVB/UVA Multi Protection Water + Sweat Resist Easy on Gel
Deze zonnebrand gebruik ik voor m'n gezicht. Zoals de naam al zegt het is een gel, en dat is nu net iets fijner voor mijn acné gevoelige huid dan een crème. Heeft net als alle Lancaster producten die heerlijke geur en brengt (mede doordat het een gel is) heel erg makkelijk aan. Dit is echt MIJN zonnebrand. Ik gebruik het ook wel voor m'n lichaam, maar als m'n huid wat droger is gebruik ik liever de Tanning Lotion van Lancaster.
LANCASTER TAN MAXIMIZER Soothing Moisturizer Face & Body
After Sun die er voor zorgt dat je alles uit je kleurtje haalt. De After Sun hydrateert en kalmeert de huid en je behoudt je kleur langer door een slim innovatief complex dat in alle After Sun producten van Lancaster zit.
PLANTER'S Hair Protective Oil UVA/UVB water resistant
Niet alleen je huid heeft onder de zon te leiden, ook je haar heeft het in de zon zwaar te verduren. Deze olie van PLANTER'S maakt je haar misschien wel een klein beetje vet (niet geschikt voor een dagje shoppen, of je moet van de vette look houden) maar beschermt ook erg goed en als je klitten in je haar hebt ben je die met deze olie zo kwijt! De geur is fantastisch (kokos!) en met een beetje shampoo ben je de vettigheid ook zo weer kwijt. Je kunt de spray natuurlijk ook alleen voor je 'staart' gebruiken, vooral voor je wat oudere haar kan de zon de genade klap zijn en dan ben je ook gelijk het vette haar dilemma kwijt.
LANCASTER SPF 15 UVB/UVA Medium Protection Tanning Lotion
Deze zonnebrand gebruik ik al jaren, de geur van deze lotion staat voor mij gelijk aan zomers in Italie. Waarom fijn? Smeert heerlijk uit, laat absoluut geen wit laagje achter, zorgt voor een prachtige glans en is perfect als je huid nooit tot zelden verbrand. Is overigens ook verkrijgbaar met een hogere factor.
LANCASTER SPF 15 INFINITE BRONZE Face Bronzer (001)
Deze zonnebrand geeft een subtiel tintje. Voor die eerste dagen in de zon als je het eigenlijk nog maar verdomd spannend vindt om je naakte gezicht aan de wereld te tonen, maar toch eigenlijk ook geen gezichtsmake-up wil dragen. Heeft ook nog eens factor 15, is prima als je niet zo snel verbrand, of als je niet de hele dag met je gezicht in de zon zit, bijvoorbeeld tijdens een middagje shoppen. Ik heb ook de donkerdere kleur, maar die zelfs in mijn meest bruine dagen veel te 'Paris gone bad' en deze heeft ook een veel lagere factor.
AHAVA Dead Sea Labeoratiories SPF 30 Mineral Suncare
Dit is een minerale zonnebrand met hoge factor. Echt ideaal voor mensen met zonneallergie. M'n vriend kan geen enkele zonnebrand hebben en zijn huid raakt al in opstand als het de zon ruikt, maar met deze zonnebrand zijn al deze problemen verleden tijd en verschijnt er zelfs een licht tintje. De zonnebrand is een mix van zonnebrand, mineralen uit de dode zee, zeewier, essentiële vitaminen en vocht inbrengende componenten.
GARNIER AMBRE SOLAIR SPF 15 UVA Protective Oil Intens Bruin
Eigenlijk ben ik niet zo'n fan van olie. Het plakt altijd zo en het geeft vieze vlekken als je daarna weer kleding aan doet, verder zijn de olie's zonder factor's ook gewoon spray's die gewoon verschrikkelijke huidziektes uitstralen. Deze olie echter, heeft factor 15 en blijft ook minder op je huid liggen dan de gewone olie's. Ik gebruik deze olie wel eens voor m'n benen of buik, als ik bij het zwembad lig. Kan ik het zwembad inspringen als ik de olie zat ben!
ESTEE LAUDER Sun Performance SPF 15 Anti-Aging Sun Gel for Eyes
Een zonnebrand voor rond je ogen. Als er iets is waar ik bang voor ben dan is het voor rimpels en de delicate huid rond je ogen heeft gewoon net iets meer (en andere) voeding nodig dan de rest van je gezicht. Waarom de zonnebrand van Estee Lauder dit keer? Ik vind de substantie fantastisch, de gel smeert zo fijn en lijkt heel erg op mijn Advanced Night Repair Eye Gel van Estee Lauder.
CLINIQUE SPF 35 Targeted Protection Stick UVA/UVB
Deze stick van Clinique gebruik ik voor m'n lippen. Je lippen vergeet je misschien wat sneller in te smeren, maar eigenlijk zou je daar juist goed voor moeten zorgen. Geen Gloss (reflecteert en zorgt voor nog sneller verbranden) maar een fijne zachte crème. Je hebt van Clinique overigens ook glossjes die speciaal voor tijdens het zonnen zijn, als je dan echt niet zonder glossjes kunt is zo'n gloss met SPF je beste optie.
Liefs,
Annemerel
Follow my blog on Bloglovin