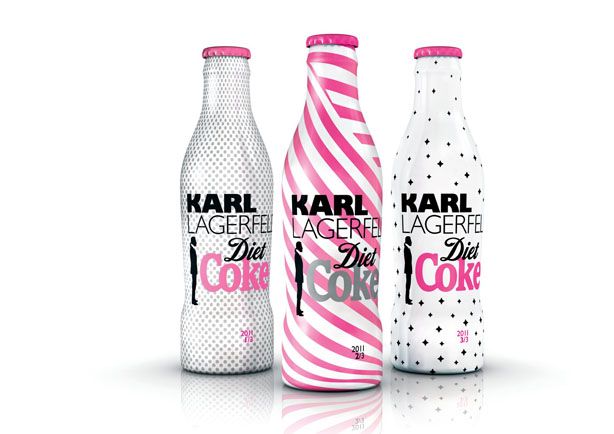 Er zijn periodes geweest dat ik, net als Karl, leefde op Coca Cola Light. Niet omdat ik een eetprobleem of iets anders dramatisch had, maar gewoon omdat ik zo druk aan het werk was dat ik geen tijd had om te lunchen (na werktijd, om twee uur 's nachts at ik dan genoeg voor drie lunches hoor, haha!) Maar goed, om een lang verhaal kort te maken, Coca Cola Light sleepte mij overal doorheen. Ik drink het nu veel  minder, maar voor deze flesjes… wil ik best een uitzondering maken.
Dat is toch liefde? En kijk dan hoe mooi ze bij mijn blog passen? Whites, blacks and pinks… Een roll-over advertentie zou op m'n blog nog niet eens misstaan! (Waar kan ik me aanmelden?).
Waar de flesjes te koop zijn? Bij de Bijenkorf! En hoewel ik m'n Cola inname een klein beetje aan het beperken ben ga ik deze kopen. Gewoon, voor de sier. Ooit zo'n goedkoop decoratiestuk gezien?
Maar er is meer dan deze flesjes? Er zijn accessoires! En die.. kun je winnen! Hoe? Door het spel te spelen
op de website van Coca Cola
. En misschien win jij wel die collector's box met de coco cola flesjes, of de speciaal ontworpen Coca Cola Clutch!
Liefs,