Vanity Fair organiseert niet alleen ieder jaar één van de belangrijkste Oscar feestjes, ze brengen ook ieder jaar en Hollywoodnummer uit. Het maartnummer van Vanity Fair staat sinds 1995 in het teken van Hollywood en dat levert prachtige covers op. Dit jaar staan Ben Affleck, Emma Stone en Bradley Cooper op de cover. Maar dat zijn niet de enige hollywoodsterren die in het nummer staan, er staan meer dan 100 foto's van celebrities in het nummer met onder andere Kerry Washington, Selena Gomez en Olivia Wilde.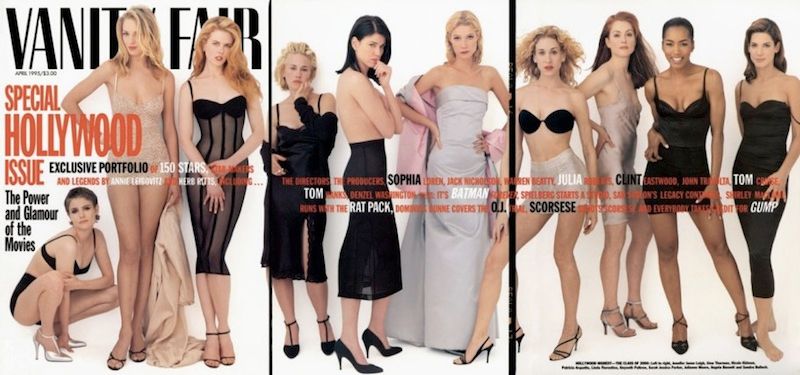 1995: Jennifer Jason Leigh, Uma Thurman, Nicole Kidman, Patricia Arquette, Linda Fiorentino, Gwyneth Paltrow, Sarah Jessica Parker, Julianne Moore, Angela Bassett, and Sandra Bullock.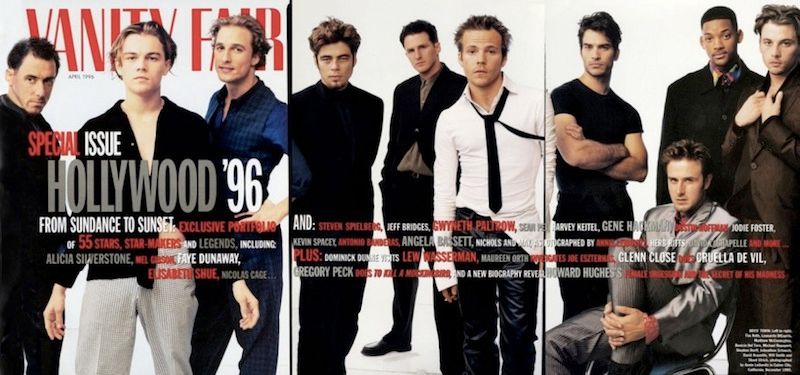 1996: Tim Roth, Leonardo DiCaprio, Matthew McConaughey, Benicio Del Toro, Michael Rapaport, Stephen Dorff, Johnathon Schaech, David Arquette, Will Smith, and Skeet Ulrich.

1997: Cameron Diaz, Kate Winslet, Claire Danes, Renée Zellweger, Minnie Driver (reclining), Alison Elliott, Jada Pinkett, Jennifer Lopez, Charlize Theron, and Fairuza Balk.

1998: Joaquin Phoenix, Vince Vaughn, Natalie Portman, Djimon Hounsou, Cate Blanchett, Tobey Maguire, Claire Forlani, Gretchen Mol, Christina Ricci, Edward Furlong, and Rufus Sewell.

1999: Adrien Brody, Thandie Newton, Monica Potter, Reese Witherspoon, Julia Stiles, Leelee Sobieski, Giovanni Ribisi, Sarah Polley, Norman Reedus, Anna Friel, Omar Epps, Kate Hudson, Vinessa Shaw, and Barry Pepper.

2000: Penélope Cruz, Wes Bentley, Mena Suvari, Marley Shelton, Chris Klein, Selma Blair, Paul Walker, Jordana Brewster, and Sarah Wynter.

2001: Nicole Kidman, Catherine Deneuve, Meryl Streep, Gwyneth Paltrow, Cate Blanchett, Kate Winslet, Vanessa Redgrave, Chloë Sevigny, Sophia Loren, and Penélope Cruz.

2002: Kirsten Dunst, Kate Beckinsale, Jennifer Connelly, Rachel Weisz, Brittany Murphy, Selma Blair, Rosario Dawson, Christina Applegate, and Naomi Watts.

2003: Tom Hanks, Tom Cruise, Harrison Ford, Jack Nicholson, Brad Pitt, Edward Norton, Jude Law, Samuel L. Jackson, Don Cheadle, Hugh Grant, Dennis Quaid, Ewan McGregor, and Matt Damon.

2004: Julianne Moore, Jennifer Connelly, Gwyneth Paltrow, Naomi Watts, Salma Hayek, Jennifer Aniston, Kirsten Dunst, Diane Lane, Lucy Liu, Hilary Swank, Alison Lohman, Scarlett Johansson, and Maggie Gyllenhaal.

2005: Uma Thurman, Cate Blanchett, Kate Winslet, Claire Danes, Scarlett Johansson, Rosario Dawson, Ziyi Zhang, Kerry Washington, Kate Bosworth, and Sienna Miller.

2006: Scarlett Johansson, Tom Ford, and Keira Knightley.

2007: Ben Stiller, Owen Wilson, Chris Rock, and Jack Black.

2008: Emily Blunt, Amy Adams, Jessica Biel, Anne Hathaway, Alice Braga, Ellen Page, Zoë Saldana, Elizabeth Banks, Ginnifer Goodwin, and America Ferrera.

2010: Abbie Cornish, Kristen Stewart, Carey Mulligan, Amanda Seyfried, Rebecca Hall, Mia Wasikowska, Emma Stone, Evan Rachel Wood, and Anna Kendrick.

2011: Ryan Reynolds, Jake Gyllenhaal, Anne Hathaway, James Franco, Jennifer Lawrence, Anthony Mackie, Olivia Wilde, Jesse Eisenberg, Mila Kunis, Robert Duvall, Joseph Gordon-Levitt, Andrew Garfield, Rashida Jones, Garrett Hedlund, and Noomi Rapace.
2012: Rooney Mara, Mia Wasikowska, Jennifer Lawrence, Jessica Chastain, Elizabeth Olsen, Adepero Oduye, Shailene Woodley, Paula Patton, Felicity Jones, Lily Collins and Brit Marling
Wat vind jij de mooiste cover? Ik vind de oude covers uit de jaren '90 heel gaaf omdat ze zo'n lekker nostalgisch gevoel geven. Daarnaast vind ik de cover van 2010 ook heel mooi, de setting vind ik erg mooi, zo natuurlijk. De cover voor 2013 is ook favoriet, Emma Stone en Bradley Cooper, wat wil je nog meer?
Bron: Vanity Fair
Liefs,
Annemerel
Follow my blog on bloglovin

22 Responses